Verner Dale Coombs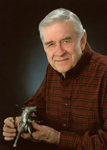 January 22, 1925 ~ October 24, 2016
Verner D. Coombs, 91, died peacefully on Monday, October 24, 2016, at Paul Spring Retirement Community in Alexandria, Virginia.
Born and raised in Denver, Colorado, Vern was the son of Myron Coombs and Letitia (Lindstrom) Coombs. He was drafted into the Army following his graduation from North High School, and served as a Combat Medic in France and Germany during World War II. He was awarded the Bronze Star with Valor for administering aid to an injured comrade under heavy enemy fire, and was honorably discharged in 1946.
Following his Army service, Vern attended the Colorado School of Mines, and graduated with a Bachelor's Degree in Metallurgical Engineering. He later went on to complete his Master's Degree from Penn State University. Vern began his career in Erie, Pennsylvania, where he worked as an engineer for General Electric. During that time he met his future wife, Nancy Coates, whom he married in 1953. Vern and Nancy started their family in Erie, welcoming their daughter Peggy, and their son Dave two years later.
In 1968, Vern accepted an engineering position with IBM and moved the family to Vestal, New York. He and Nancy joined South Hills Presbyterian Church where they were active members of the congregation, serving the Lord as Sunday School teachers, and members of the choir and Session. After retiring from IBM in 1990, he became passionate about sculpting figures out of wax and casting them in pewter and bronze, giving many as gifts and selling some at craft fairs in New York State. He was particularly proud of the small bronze-casting furnace he invented, and would describe it to anyone who would listen. Vern enjoyed motorcycles, skiing in Colorado, family camping trips, an occasional game of chess, playing tennis, and teaching his grandchildren to fish.
In 2006 Vern and Nancy moved to Alexandria, Virginia, to spend more time with their grandchildren.
Vern was predeceased by his wife of 55 years, Nancy, and his sister, Beverly Sudmeier. He leaves behind his daughter, Peggy (Hank) Russo, his son Dave (Lesli) Coombs, grandchildren Bryan (Alyson), and Kelly Russo, and many nieces, nephews and friends. Vern had a special personality and will be missed dearly by all who knew and loved him.
A Celebration of Life will be held on Saturday, November 12th, at 10:00 AM, at Heritage Presbyterian Church, 8503 Fort Hunt Road, Alexandria, VA 22308. A reception will immediately follow. Interment will be at Arlington Cemetery sometime this spring.
Donations may be made in Vern's name to Capital Caring (Hospice), Resource Development Department, 2900 Telestar Court, Falls Church, VA 22042, or online at www.capitalcaring.org.
Cemetery
Arlington National Cemetery

Arlington, VA
October 31, 2016

Service
Heritage Presbyterian Church
8503 Fort Hunt Road
Alexandria, VA 22308
November 12, 2016
10:00 AM
Memories Timeline
---