Ruby Vivian McKeon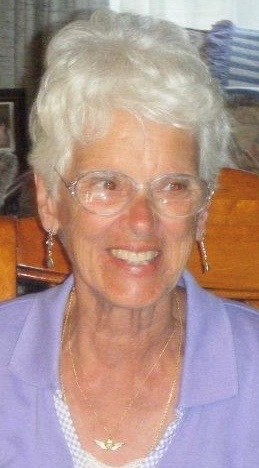 June 26, 1931 ~ May 17, 2020
Ruby Vivian McKeon, 88, of Lorton, Virginia, passed away on May 17, 2020.
She was born in Brookline, MA on June 26, 1931, the daughter of Robert and Anne Vivian. Ruby attended Boston University where she earned a teaching degree in 1954.
Ruby loved to travel. While on a trip to Washington, D.C., she fell for a dashing young former sailor driving a Cadillac – Robert (Bob) McKeon. The two married on September 29, 1956. Bob and Ruby raised five children in Lorton, Virginia where Ruby was a teacher for almost three decades.
Ruby was a devout Christian who was active in the church. She was talented in cross stitching and loved making keepsakes for family and friends. She loved wearing a hat, decked out in purple and red, with her fellow Red-Hatters. She enjoyed singing, dancing, snacking on Snickers and Chick-Fil-A milkshakes.
She is survived by her sons Joe (Kerry), David, Keith (Jill); daughter Susan (Mike) Wood; 14 grandchildren; and 10 great-grandchildren. She was preceded in death by her parents Robert and Anne Vivian, brother Robert Vivian, husband Bob McKeon and son Mike (Vicky) McKeon.
Ruby brought joy into life's everyday moments and will be forever remembered as the affectionate McKeon matriarch. A follower of Christ, she exhibited His light – but also served as a light to her family, friends and community. The family asks that you continue to shine that light in her memory – love your family, love your neighbor, share a smile (or hug) with a stranger, and remember small acts of kindness go a long way.
Due to the current pandemic, a small private burial will occur at Quantico National Cemetery with a celebration of life to occur at a later date.
Memorial contributions may be made online to Lorton Community Action Center (LCAC) at www.lortonaction.org or mail to: 9518 Richmond Highway, Lorton VA 22079.
Memories Timeline
Guestbook
---