Roy Styron Douthit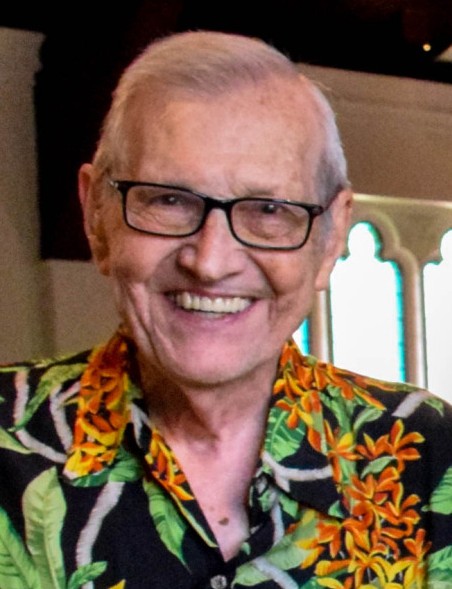 December 23, 1930 ~ October 14, 2020
Roy Styron Douthit took his last step, his last sip of Pernod, watched his last University of Oklahoma football game and beating Texas, said his last goodbye to the few remaining friends of many decades, and to his family. Nearly 90 he entered into the Kingdom of Heaven on October 14, 2020 to be with all the saints he knew so well in the Kingdom of this World.
His family, friends, and neighbors will miss him. Anyone who met him remembers at least his unusual name, Styron (pronounced like Byron), his mother's maiden name. You would also remember his engaging conversation. He always wanted to know more about you, to find something he could relate to, something in common at a first meeting, something to allow a personal connection for the next time you met. He always expected to meet you again, and he would remember you. The conversation would pick-up where you had left off.
Born in Oklahoma City on December 23, 1930, he grew up in the rural countryside towns of Caddo, Roosevelt and Konawa at the start of the Great Depression. He grew up less poor than others, in the middle class of the time. His father Roy Douthit, a pharmacist and in the dry goods business with his father-in-law James Styron, when filling prescriptions couldn't feed a family. His mother Helen Douthit was a teacher, one of those solid professions that helped support the family. His fondest memories of the time were being in the company of people in the community, working at the dry goods store with his father, his parents' bridge night, listening to records of classical music at his music teacher's house, hanging out at the soda fountain at his father's pharmacy. He saw how people coped with the misery of the times by sharing, hospitality, and enjoying simple pleasures of one another s company and conversation.
He attended OU in Norman. He lived most of his adult life in Oklahoma City before retiring and returning home to Konawa to care for his mother, work on a Masters degree in history, volunteer at the 45th Infantry Division Museum in Oklahoma City, the local VFW post, and read. His favorite subject was military history. Deep down he wanted to be a soldier, like his Uncle, General James Styron. But realized he didn't have the gifts and talents to become one as a career. He admired the traits he thought made a good one: disciplined, executing orders, being organized, strategic, and prepared, leadership, and attention to detail. These he was not. If not a soldier, what then would be his work?
The parts of his life he most cherished were living elsewhere. Going to boarding school at Kemper Military Academy in Booneville, MO. Commissioned as a second lieutenant he serviced in Korea. With a Masters in Geology from OU, he went to Dhofar for 3 years and drilled 27 dry wells for Cities Service Oil Company. On leave he traveled the world. The favorite places he often returned were Paris and Chamonix.
He moved to Arlington, Virginia in 2006, to be with his son Paul Douthit and two grandchildren Samuel and Grace, and volunteer at the Smithsonian' Museum of American History and Museum of the American Indian. He returned only for visits to see his surviving sister Helen Duckett, three nieces, a nephew, and the few friends still living there.
As his son, I now appreciate his warm and genuine gift of conversation and connecting with people. He could tell stories about his adventures as a young man. He could recite the family genealogy. He could remember with clarity and detail moments in his life, especially ones that brought him the most joy. Those involved family or friends, an interesting location, some wine or a cocktail, a meal or a fun activity. Everyone he meet became his friend. Many endured for decades whom I got to know through the stories he told.
I don't think he ever realized his vocation in life or his true strengths. What I do know is…
He was kind and genuine.
He was able to forgive
He loved others
He was honest and trusting
He was loyal to his family, friends, and country
He knew who he wasn't and accepted the consequences
He seldom worried or was anxious
He lived a simple carefree life
He had no enemies
When looking back on his life, he will be remember most by these traits of good work and not others kinds of work. Welcome happy morning, Dad.
Gifts in lieu of flowers on behalf of Styron may be made to oufoundation.org or VOICE-IAF.org
Memories Timeline
Guestbook
---