Robert Furman Armstrong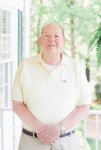 April 4, 1937 ~ January 25, 2018
Robert Furman Armstrong (April 4, 1937-January 25, 2018)

Robert Furman Armstrong of Springfield, VA, 80, passed away to the "Great Car Show in the Sky" on Thursday, January 25, 2018. Bob was born in McCook, NE on April 4, 1937 and was a Cradle Episcopalian. Bob was a devoted family man and car enthusiast. He attended the DC public schools, graduating from Wilson High School. Following his service in the US Coast Guard, he earned his bachelor's degree from American University and a Master's degree from the University of Utah.

Bob worked in both the private industry and the Department of Education Student Loan department. He was a member of Alpha Tau Omega fraternity, the Sons of the American Revolution, General Society of Mayflower Descendants, and a member of Pohick Episcopal Church for over 35 years.

Bob loved spending time with family and friends. Some of his favorite times were spent at the beach (Rehoboth and Outer Banks), playing in his bridge and poker groups, restoring antique cars and listening to bluegrass music.

Bob is survived by his wife of 57 years, Diana, and his children, Susan Ray (Rolando), John Armstrong (Nicole) and Melissa Moore (Timothy). He had 8 grandchildren, Magdalena and Charles Ray, Lillian, Frances, and Adelaide Armstrong; and Jacob, Judah and Joshua Moore. He is also survived by his twin sister, Ruth, of Lincoln, NE and many brothers-and sisters-in-law, nieces and nephews.

In lieu of flowers, donations may be made to the Historic Pohick Church Foundation (www.pohick,org) or Shrine Mont (www.shrinemont,com).
Memories Timeline
---