Presley Wayne Smith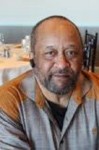 Wayne's Journey
Presley Wayne Smith better known as "Wayne" was born to the late Prentice Blue and Alice Annette Smith on September 21,1959 in Washington, D.C. He grew up as the only child of Alice Annette Smith and attended HD Woodson High School (Tower of Power) where he graduated in 1977 with a 3.0 GPA. While attending HD Woodson, he was a part of the HD Woodson Honors Choir that toured all of Europe.
In September of 2000 he married longtime girlfriend Shirley Purnell which ended in 2009..
Wayne did not give up on love and his heart eventually led him to Nora Neal-Daggett. They met on a plane, headed to Georgia where sparks flew. He gave love another shot and married Nora in February of 2017.
In 2003, he took a position as a Senior Technician for Cartridge Technology, Inc.(CTI). Through much hard work and dedication he worked his way up to becoming a manager within the company. He was often referred to as the "Printer Man" to most of his colleagues. Wayne was known for having snappy comebacks and a witty humor which everyone loved. He touched many lives and hearts during his tenure with the company.
Wayne was not only a devoted father but an excellent football coach with the Metropolitan Cobras Youth Club in Washington, D.C. He began his coaching career in 1999 as an Assistant Coach for Defense for the 65lbs team. He became the Head Coach in 2009 and took this opportunity to lead the 2009 Mitey Mites to the National Championship. His love for football did not stop there. He was also a diehard Redskins fan!!
He owned a plethora of Redkskin parahenalia and topped it off with Season Tickets.
On Sunday, August 6, 2017 the Lord called his son home. He leaves to cherish his memory, his loving Wife, Nora, her 3 sons Todd, Tony, Tim and 7 grand children; his four children, Michael, Temeika, Tyisha and TyJuan(Qontia) one godchild, Kelly, his two sisters, Erica and Dyana; seven grandchildren Christian, Maliyah, Skylah, Myami, Veronica, Danielle, Delonte and three great-grandchildren, Annika, Datwan, and Donyea; a host of cousins, other relatives, in-laws and friends.
He will now be embraced by the Lord Jesus and all who have entered Heaven before him.
Memories Timeline
Guestbook
---