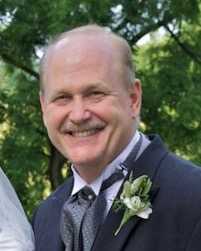 March 10, 1952 ~ July 10, 2021
Paul Taylor Myers, age 69, of Reston, Virginia, passed away peacefully on July 10, 2021. He was at home, surrounded by his children and his loving wife of 40 years, Marion. A celebration of his life will be held at a later date.
Paul was born on March 10, 1952 in Schenectady, NY to Frederick and Sylvia (Hayward) Myers. On April 4, 1981, he married Marion Cannon Myers in Pennington, New Jersey. They moved to Reston, Virginia shortly thereafter and together they had three children, Katherine (Larry) Johnson, Christopher (Rachael) Myers and Megan Myers.
Marion and Paul meet in college, and both graduated from Ohio Wesleyan University (OWU) where Paul was an athlete and fierce competitor for the OWU Lacrosse team, coached by his father, Fred. He was also a proud member of the Sigma Chi fraternity, a legacy his son continued. He majored in Psychology and received his MBA from Ohio State University.
He is survived by his wife Marion, siblings Chikk Myers, Sheri Myers and Karen Harman, daughters Katie and Megan, son Chris, and two grandchildren Addy and Merrick Johnson. He was preceded in death by his parents Frederick Myers and Sylvia Myers Willoughby.
Paul worked as a government contractor through his business, Bartrax Solutions. After retiring, he joined his wife's company, Myers Public Relations. He proved himself to be a highly creative and superb project and event coordinator, and particularly enjoyed producing the annual Reston Holiday Parade.
Paul played Grand and Super Grand Masters Lacrosse with the alumni team, the OWU Legends, annually and well into his sixties. He loved the game and he loved the camaraderie of his teammates. He also thoroughly enjoyed playing golf with his friends at Algonkjan Park and consistently drove the ball over 300 yards. At home, Paul was usually found in the kitchen cooking an array of home recipes for his extended family and even his dog, Honey.
Lake JoSylvia, in New Hampshire, was his favorite place, where he spent childhood summers on the lake with his parents, siblings and cousins, then his children and grandchildren. It was a thing of beauty seeing him glide over the water on his sailboat, and he brought in some major fish in his day.
He was a loving husband, father, and grandfather, and he loved his pets. He will be greatly missed.
Donations in his name can be made to the American Cancer Society donate3.cancer.org.
Memories Timeline
Guestbook
Sign the Guestbook, Light a Candle