Patricia Foley Tsouras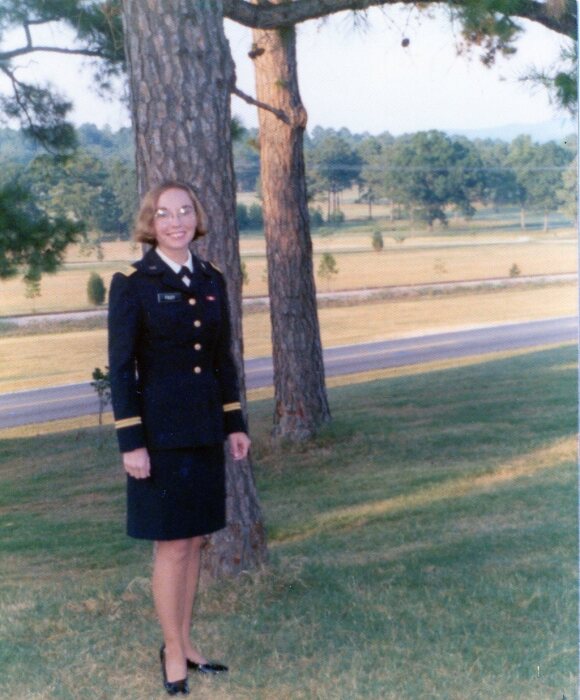 July 23, 1950 ~ June 15, 2021
On Tuesday June 15th, 2021, Patty Tsouras, loving wife, mother, grandmother, sister, and friend, died at age 70.
Patty was born and raised in Phoenix, AZ. Daughter to Dick and Garda. Sister to Jim and Richard, and their trusty dog Boots (1 and 2). Patty was a great student, artist, and avid reader. She won the Betty Crocker Homemaker of Tomorrow award and a ribbon at the Arizona State Fair for a "cotton ensemble" she made. These achievements were not because she had grand dreams of becoming a homemaker, but because she excelled at everything she set her mind to.
She proudly served in the United States Women's Army Corps. She loved the challenges and excitement of her service, and especially loved her role as a training officer. Patty met her husband Pete while stationed at Ft. McClellan, Alabama. As part of his duties regular duties in March of 1974, he inspected the mailroom that was under her supervision, and the rest is history. The two married later that year. This summer would be their 47th wedding anniversary. Pete reflects that Patty was the kindest person he has ever known.
Patty was the proud mother to Teddy, Peter, and Kate who were all equally proud to call her their mom. You could always find her at Peter's rock shows with a coke in hand and smile on her face.
Patty loved her work in instructional design. She took great pride in the importance of the projects she did for numerous agencies, including the U.S. State Department, The National Transportation Safety Board, and ultimately, Biometrics training for the United States Army. The latter project was particularly engaging for her, because she was able to develop training materials that directly facilitated active duty service members in-theater. She loved the idea of being able to still give back whatever she could to the men and women in uniform serving abroad.
Patty always saw the best in everyone and every situation or challenge she faced. She demonstrated kindness and patience in the most difficult times. She loved road trips and spending time with her family—especially the combination of the two—and always held a special place in her heart for the Sonoran Desert of her childhood. Every summer they would pack up the minivan and Patty and the kids would drive out west to visit family, exploring the country along the way. A tradition that Teddy, Peter, and Kate look forward to sharing with their children.
Patty is survived by her husband Pete, children: Teddy, Peter, and Kate, her grandchildren: Leni, Thea, August, and Oliver, and brothers: Jim and Richard.
Service to be held at St. Sophia's Greek Orthodox Cathedral in Washington DC at 10:30 on Wednesday June 23 followed by burial at Quantico National Cemetery at 1:00pm. In honor of Patty, In lieu of flowers, please send donations to the Arizona Sonoran Desert Museum (www.desertmuseum.org).
Memories Timeline
---