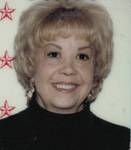 March 30, 1944 ~ September 27, 2013
MICKIE FLAVIN HENDERSON
March 30, 1944 to September 27, 2013
Long-Time Employee of IBM
Mickie Flavin Henderson died September 27, 2013 at her home in Fairfax, VA, after a long battle with heart and lung diseases. Mickie was born March 30, 1944 in Charlotte, NC. She was the second daughter born to Michael John Flavin and Irene Elizabeth Flavin nee Clausen. Both parents predeceased her.
Mickie requested that her family, friends and relatives all know that she lived a vibrant and joyous life and that she died at peace and without fear.
She leaves her husband, John S. (Steve) Henderson of Fairfax; sister, Mary Flavin Markov (and Mary's husband Jim) of Raleigh, NC; one niece, Karen Markov Beesley (and Karen's husband Jim) of Wake Forest, NC; two nephews, James Markov of Apex, NC and Todd Markov of Greenville, NC; best friend, Jerry Schultz of Bangkok, Thailand; two step-children, Nels Henderson (and Nels' wife Alexis) of Santa Barbara, CA and Soraya Haglund of Cromwell, CT; two step-grandchildren, seven-year-old Hannah Henderson and eight-year-old Paul Haglund; several Flavin family cousins; many friends and extended family members; plus her Cavalier King Charles Spaniel, Sophie, and Miss Kitty, her short-hair orange cat.
There were three significant 23 year periods in Mickie's 69 plus years of life:
Mickie was raised in the Carolinas and Ohio where she attended parochial schools from first grade through three years of high school. When her family moved from Akron to Parma, OH, Mickie completed her senior year at a public high school. She immediately went to work at various jobs and eventually found work with IBM in Huntsville, AL. After completing business school courses in Chicago, IL in 1967, Mickie entered another 23 year period of her life.
Mickie sought employment with and was rehired to work as a secretary at IBM. She worked for IBM at Rock Island Arsenal in IL while living across the Mississippi River in IA. After several years, she transferred to the IBM offices in Minneapolis, MN where she spent about six years with the company and made life-long friends in the Twin Cities; also, she connected with many of her Flavin family cousins who lived in Minnesota. When Mickie was 31 years old in 1975, she accepted a position as a Federal Systems Administrator and moved from MN to an Arlington, VA office of IBM. For the next 15 years, Mickie Flavin worked for IBM Federal Systems Division in VA and MD as an administrator of federal contracts. In the down-sizing of IBM of the early 1990s, she left the company with 24 years of service but kept employee benefits until she reached 30 years and began to draw retirement benefits from IBM. In 1990, Mickie completed the second 23 years and began the third 23 year period of her life.
In September 1990, Mickie Flavin met her husband, Steve Henderson, via a dating service. On February 16, 1991 Mickie and Steve were married at the Old Chapel at Fort Myer, VA. Mickie worked at IBM until June 1992 and Steve combined his military and civil service years so he could retire in November 1992. Mickie Flavin Henderson and Steve Henderson moved to Hampshire County, WV and operated a B & B near Romney. After five years in WV, Mickie and Steve moved to Rocky Mount, NC to be closer to Mickie's elderly mother and to connect with Mickie's sister and brother-in-law in Raleigh, NC. Four years later, Mickie and Steve moved to a retirement community near Parrish, FL. Both Mickie and Steve realized that they needed to return to northern Virginia and stop being vagabonds; so, in August 2006 they returned to northern Virginia and reconnected with military and IBM friends.
Following surgery on her shoulder in 2008 and on her knee in 2009, Mickie and Steve knew that Mickie's health was failing. Under the care of surgeons and general practitioners who provided the best service for Mickie's many ailments, Mickie decided that she wanted to live within the bounds of her pain and to approach the end gracefully. She connected with her friends of many years and often cooked quality chef-inspired cuisine for them. In early 2013 her mobility was diminished but she got around well-enough with a walker. Several mini-strokes in mid-2013 signaled her time was short. Mickie chose to get pain medications administered by hospice nurses and refused hospital care. She had several mini-strokes days prior to having a paralyzing episode three days before she died. Steve, her husband of more than 22 years, and her dog, Sophie, and cat, Miss Kitty, where at her side with a hospice nurse for those last four days. Mickie died at 3:25 p.m. on Friday, September 27, 2013. The third 23 year segment of Mickie Flavin Henderson's 69 year life ended.
Funeral Service
Old Post Chapel at Fort Myer

Arlington, VA
February 14, 2014
11:00 AM - 11:30 AM
Cemetery
Arlington National Cemetery

Arlington, VA
February 14, 2014
11:30 AM - 12:00 PM
Reception
Officer's Club at Fort Myer

Arlington, VA
February 14, 2014
12:30 PM - 2:00 PM
Memories Timeline
Guestbook
Sign the Guestbook, Light a Candle