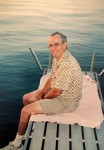 September 9, 1947 ~ March 2, 2019
Michael Davey, of Alexandria, Virginia, passed away in Annandale, Virginia, on March 2, 2019, at the age of 71. He is survived by his wife of 49 years, Bonnie. He was a proud and devoted father and grandfather to daughter Shannon Floyd (husband Adam), son Justin Davey and grandsons Cliff and Houlton Floyd. Mike is also survived by his loving sisters Barbara Blakeman and Debby LaBelle of Peru, NY, beloved sisters-in-law and brothers-in-law and many nieces and nephews.
Mike was born in Boston, Massachusetts. He lost his mother, Blanche Davis Davey, at age 8 to polio. He spent his early childhood in Massachusetts with his blended family and summers with his beloved maternal grandparents. In high school, he lived with an aunt and uncle on Long Island. He graduated from Oyster Bay High School in 1966 where he played baseball and basketball. He then graduated from Illinois Wesleyan University (where he met Bonnie) with a degree in history. Over the next several years, he worked for Allstate Insurance, Cutco Cutlery, and taught sixth grade for 4 years. During those years, he got masters degrees in Sociology (Ill. State U.), Educational Administration (No. Ill. U.), and Future Studies (U. of Houston, Clear Lake).
In 1979, Mike and Bonnie moved to Alexandria, VA, where Mike did an internship at the Congressional Research Service, worked for Battelle, and the American Association of State Colleges and Universities. From 1984 to 2008, he worked at the Congressional Research Service (CRS) at the Library of Congress as a Specialist in Science and Technology in the Resources, Science and Industry Division. While at CRS, Mike was selected to attend the Industrial College of the Armed Forces at the National Defense University for a year of strategic studies. Then in 2001, Mike was on loan from CRS to the National Research Council and served as the Study Director for the Committee for Review of the Nanotechnology Initiative. He also taught evening classes for years for the U of MD, University College.
Mike sought to enrich the lives of others. Whether coaching youth sports teams, being a scout leader, working with charitable organizations, or through his church, the fact that he always took on a leadership role resulted in impactful, large-scale benefit to the community. Mike served as the President of the Board of Directors for United Community Ministries. He was an active member of St. Aidan's Episcopal Church's vestry and Outreach Committee, and helped to facilitate the construction of the Hal White Parish Hall.
Sports, history, and travel were some of Mike's passions. He spent time playing, coaching, watching, critiquing, yelling about, and in every way experiencing baseball, golf, football, skiing, surfing, tennis, and even kayaking. He was a voracious reader, enjoying a wide variety of genres, especially biographies about American presidents. Mike's love of travel took him to many family gatherings all over the country, on camping trips, to the beach. He enjoyed learning about new cultures when on professional trips to locations such as Hong Kong, Japan, and Mexico. After retirement, Bonnie and Mike enjoyed trips to London, Hawaii, Key West, Montana, Wisconsin and upstate NY.
A memorial service will be held at 11am on Saturday, March 16th, 2019, at St. Aidan's Episcopal Church in Alexandria. To honor and remember Mike Davey, the family asks that donations be made to United Community Ministries or The Alzheimer's Association. ucmagency.org ALZ.org
Service
St. Aidan's Episcopal Church
8531 Riverside Road
Alexandria, VA 22308
March 16, 2019
11:00 AM
Memories Timeline
Guestbook
Sign the Guestbook, Light a Candle