Melanie Ruth Mathis Mucklow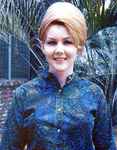 November 18, 1942 ~ September 3, 2013
Melanie Mathis Mucklow, 70, died in the hospital in Falls Church, Virginia of pneumonia, heart failure, and respiratory failure at 3:45 a.m. on September 3, 2013, with each of her hands being held by one of her children. Thankful to have had her with us this long, her loved ones take comfort in knowing that Melanie was eager to be transformed into her glorious, incorruptible body in heaven, free from her many ailments.
Born Melanie Ruth Mathis in Crescent City, Florida and reared in Orlando, she won beauty pageants and many academic honors in her youth. Melanie earned a bachelor's degree in English and history from Florida Southern College. She belonged to more honorary fraternities than any other woman in the state, and was named one of the top fifty college co-eds in the United States. Melanie also joined the Sigma Sigma Sigma sorority and performed in a synchronized swimming team while in college. She married Glenn Mucklow in 1964 in Orlando while completing her teaching internship for her degree in Winter Haven, Florida. Together, they followed Glenn's career to Vienna, Virginia; Melbourne Beach, Florida; Manila, the Philippines; Boston, Massachusetts; and Arlington, Virginia, where they lived for the last twenty-five years.
A strong-willed and independent housewife for her generation, Melanie was also an accomplished artist, and earned her master's degree in counseling from Stetson University. Over the years, she enjoyed reading, playing bridge, painting, traveling extensively, teaching, providing private and group counseling, serving as an Episcopal lay minister, praying in a Roman Catholic rosary group, and volunteering at the Smithsonian Institution's Museum of African Art. She also served on several boards of directors, including the Ballston Partnership of Arlington, Virginia, the American Women's Club of the Philippines, and a regional board of Big Brothers Big Sisters of Central Florida as well as her condominium board.
Melanie loved Christmas. She would buy thoughtful Christmas gifts for her family and friends all year, and always decorated extensively at Christmas. In addition, she would make small Christmas bags of gifts for people in her condominium that she did not know -- But, that she heard had done some community service, or something special for someone, or were sad for some reason. She made little to/from tags with the image of a little mouse wearing a Santa Clause hat, and said the gift was from Anony Mouse -- like anonymous. Late on Christmas Eve, the bags would be hung on the recipient's doorknobs.
Melanie is survived by her loving husband of nearly 50 years, Glenn Harris Mucklow; daughter Shawn Williams (Kent) of Arlington, Virginia; son Eric Mucklow (Lacy) of Springfield, Virginia; sister Joy Bowen (Dean) of Altamonte Springs, Florida; stepbrother Dr. Elliot Moon (Carolyn) of Atlanta, Georgia; cousin Stephanie Bates of Lawtey, Florida, who was like a daughter to her; and grandsons Jonathan and David Williams.
Her many friends in Florida, Virginia, and around the world, would tell you that Melanie was a giving and forgiving person - a wife, mother, teacher, artist, mentor and friend who perceived in others the potential for being better than they themselves would have believed.
Funeral services were private at her request. Those who would like to convey a remembrance may send donations in her name to the Pastoral Care Ministry of St. Mary's Episcopal Church, 2609 North Glebe Road, Arlington, VA 22207 (www.stmarysarlington.org).
"No eye has seen, no ear has heard,
no mind has conceived, what God has
prepared for those who love Him."
I Corinthians 2:9
Memories Timeline
Guestbook
---