Marjorie Joan Kaiser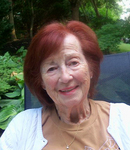 October 12, 1919 ~ June 10, 2014
MARJORIE JOAN KAISER; 1919 - 2014
Marjorie Joan Kaiser, 94, of Sterling, VA. passed away on June 10, 2014 in Leesburg, VA. She died peacefully in her sleep with family by her side.
Born in Bedford, England on October 12, 1919 as the only surviving child to the late Arthur and Elizabeth Clarke, she spent her childhood close to her many cousins and dear friends. In her late teens, Joan (as she came to be called) learned the hair dressing trade and went to work in her father's tobacco/chocolates/hairdresser shop in Wallington, England. The family lived above the shop as many English shopkeepers did in those days.
When WWII broke out, Joan was drafted into the British Army and was assigned a clerical position in Winchester, England. While in Winchester she met her future husband Wilbur Kaiser, an American GI who had been sent to England to recover from wounds suffered in the Battle of the Bulge. After the war the two married on October 19, 1946 in Wallington, England. Joan followed her husband back to the United States, eventually settling in the Cleveland, Ohio area.
Joan would go on to give birth to six children between 1948 and 1959, and become a stay at home Mom for the next 20 years or so. After her child-rearing years, she became a sales clerk at a high end women's clothing retailer, and developed many friendships and loyal customers during a successful sales career. Joan also loved to socialize with her friends of "The Daughters of the British Empire" organization. They would get together often to play bridge, go bowling and play golf in various women's leagues. She also had a passionate love of animals having many pets while growing up in England, as well as later on in her life. Her favorite was "Peter", a white Sealyham Terrier she had as a child growing up in England. She passed her love of animals on to her children and grandchildren.
During the past 22 years Joan made Sterling, VA her home while enjoying extended visits to her children in other parts of the country. She is survived by her six children Lynette (Nale), Michael (wife Laura), Sheryl Guffrey Hogan, Bruce (wife Valerie), Roy, Heidi, former husband Wilbur, eleven grand children ages 16 to 44 and 6 great grandchildren ages 4 to 12. She will be greatly missed by all.
A memorial service is planned for July 19th, 2014 at 4:30 PM at the Unitarian Universalist Church of Loudoun, 20460 Gleedsville Rd., Leesburg, VA 20175. In lieu of flowers or other gifts, memorial donations can be made in her name to the Animal Humane Society at: www.animalhumanesociety.org or sent to: Donor Services, Animal Humane Society, 845 Meadow Lane North, Golden Valley, MN 55422 (763-489-2210).
Service
Unitarian Universalist Church of Loudoun
20460 Gleedsville Road
Leesburg, VA 20175
July 19, 2014
4:30 PM
Memories Timeline
Guestbook
---