Marcie Jo Kelleher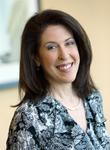 April 11, 1961 ~ August 26, 2014
Marcie Jo Kelleher (Age 53)
Of Vienna, Virginia passed peacefully in her home on Tuesday, August 26, 2014 surrounded by family and friends. Marcie was born on April 11, 1961 in Silver Spring, Maryland to Lila Glass of Bethesda, Maryland and Sherwin Glass of Rehoboth, Delaware. She married her husband Tom in 2002. She will also be missed by her sister, Leslie Kight of Columbia, Maryland, her Rottweiler Barney and a host of loving colleagues and friends. She was preceded in death by her sister Melissa and her pets: Nico (Rottweiler), Winkie (Calico cat) and Daisy (Rottweiler).
Marcie was tall, intelligent, quick-witted, always smiling, kind and thoughtful. She infused joy into whatever professional or personal endeavor she involved herself with. She loved people and loved fun. Besides her love for Tom, she truly enjoyed her home, her Rottweiler dogs and golf. Her golf skills were sharp enough for her to win the 2009 Herndon Ladies Golf Club Championship. Herndon Ladies Golf Club member Ann Hoffer wrote:
"When she wasn't nursing or tending to her
beautiful home and yard, you could find Marcie on
the golf course. She was young, tall and fit ~ a
winning combination for golf. And she could hit
that ball a mile! Her play earned her many
trophies and awards. But even though she was a
good and competitive golfer, she was patient with
less skilled golfers and a valued mentor to her
playing companions. The Herndon Ladies Golf Club
was her principal golf association, where she
served as Tournaments Vice President for many
years, continuing even after she was no longer
able to play. Marcie was all about good golf and
good fun. Through intelligent and creative
tournaments, she energized the group with
imaginative formats, many involving special
effects, costumes, and props. She also took the
initiative to modernize the Club's processes by
creating (with her husband) a brilliant website
that mechanized the Club's scheduling and
communications processes. Marcie was passionate,
proactive, and persistent ~ she was also great fun
to be around! Her infectious laugh and amazing,
often whimsical, sense of humor endeared her to
every member of the Club (e.g., who can forget
when she got fed up with our lack of attention to
her announcements, so showed up the next week with
a bull horn?!!). She leaves a legacy of respect
and love; she will be long remembered for her play
and her contributions. May you rest in eternal
peace, dear Marcie ~ we'll look forward to
connecting one day on the great golf course
overhead."
Marcie's other passion in life was nursing and earned her Master's degree in Nursing Informatics. She was a 2014 Nursing Excellence GEM Award Finalist and a 26 year Nursing Veteran at the Washington Hospital Center, which became an extended family to her. She was noted for her positive attitude, advocacy for patients and willingness to speak up for what is right. Marcie's Nursing Supervisor Janet Thorne wrote:
"Marcie came to work at the Washington Hospital
Center in the early 90's and from day one she
became a role model for other employees. She is
described in multiple commendations by her peers
as, "exceptional, caring, clinically excellent and
a team player." While working on the Coronary
Care Unit, Marcie was often asked to precept and
mentor new staff because she was not only
clinically excellent but a great teacher as well.
She had a way of teaching a new nurse that made
sense and made an impression but never made the
person feel unsure. When she transitioned to the
Rapid Response Team, these characteristics are the
things that made her and the team a success. She
will be remembered for her confident, patient
focused approach and the way she passionately
advocated for the patient and the nursing staff.
To recognize her skills and abilities, Marcie was
nominated by the staff for MWHC Exceptional Nurse
of the Year award and by her supervisor for the
GEM Nursing Excellence Award for which she was a
regional finalist. Marcie is the Gold Standard.
She participated in research studies related to
Sepsis Screening, developed and standardized tools
for documentation and orientation for our team,
decorated the office for holidays, filled our
candy dish, redesigned the office, created our
productivity tool, chaired our self-scheduling
committee, helped our patient's get the care they
needed and touched our hearts. We miss her every
day and the hole she left will not be easily
filled."
Friends are invited to celebrate Marcie's life on Saturday, September 13, 2014 at Unity of Fairfax at 6pm.
Memorial donations may be made in Marcie's memory to: Washington Hospital Center Foundation, 110 Irving Street, NW, East Building Suite 1001, Washington, D.C. 20010 Melanoma Research Fund
Service
Unity of Fairfax
2854 Hunter Mill Road
Oakton, VA 22124
September 13, 2014
6:00 PM
Memories Timeline
Guestbook
---