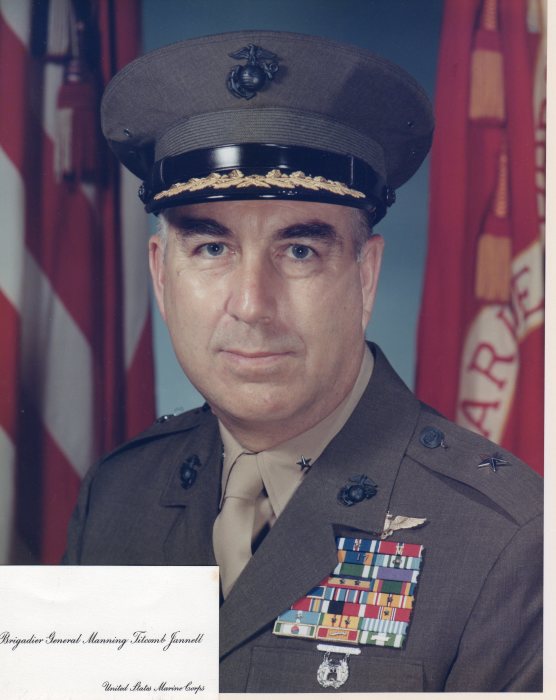 January 17, 1921 ~ November 6, 2019
Manning T. Jannell of Alexandria Virginia, originally of South Weymouth Mass, died
peacefully in his home on 6 Nov 2019, at the age of 98.
A church service will be held in the Quantico Marine Corps Museum Chapel
on Mon, 9 Dec 2019, at 10 AM. This will be followed by an 'inurnment' with
honors, at the Quantico National Cemetery.

Due to the restrictions by the Museum Chapel, the family is requesting that,
in lieu of flowers, friends may donate to The American Heart Association or
to The Alzheimer Association.

'Jan' is survived by his 4 loving children, Kay & Angela in VA, Joseph in TX &
Richard in NV. He was predeceased by his devoted wife, Lenora, of 65 years.

He was well-known for his love of cars, throughout his entire life. The phrase
'Will talk cars with anyone' certainly applied to him.

As a teenager, he was an accomplished equestrian, as was his father, attending
many horse shows as a jumper.

He graduated from high school in 1940, then attended Valley Forge Military
Academy. In 1942, he entered the Marine Corps and was subsequently trained
as a Naval Aviator and commissioned a Second Lieutenant.

The following are just some of the highlights of his illustrious career:

In WWII, he was an F-4U Corsair night-fighter pilot in the Pacific theater,
specifically the Okinawa Campaign.

In Korea, Captain Jannell was a Tigercat night-fighter pilot with the 1st Marine
Aircraft Wing(aka 'Flying Nightmare'), & received a Purple Heart for his injuries.
He also received the Distinguished Flying Cross for personal heroism.
Major Jannell was the Commanding Officer of fighter-bomber squadron within
Marine Aircraft Group 33, part of the 1st Marine Aircraft Wing.
He was also awarded a Gold Star in lieu of a 2nd Award of the Distinguished
Flying Cross, for his extraordinary achievement while participating in aerial
flight.

In the 1950s, he participated in the Johnson Island Nuclear Testing Program.

During the sixties, Major Jannell served at the European Headquarters Command
in Paris, France. He was subsequently deployed to Vietnam, where he commanded
Marine Medium Helicopter Squadron 364. During a second tour in Vietnam, LtCol
Jannell piloted a helicopter carrying a wounded Vietanmese soldier with an
un-exploded mortar shell embedded in his body, from the battlefield to Da Nang,
where successful surgery was performed.

In 1971, he was promoted to Brigadier General, while Assistant Quartermaster
General at Headquarters Marine Corps in D.C.

His final tour was as Commanding General of the Marine Corps Logistics Base
at Barstow CA.

Brigadier General Jannell retired in 1976 and moved to San Diego CA. In 1978,
he relocated to Alexandria VA where he remained until his death.
Memories Timeline
Sign the Guestbook, Light a Candle