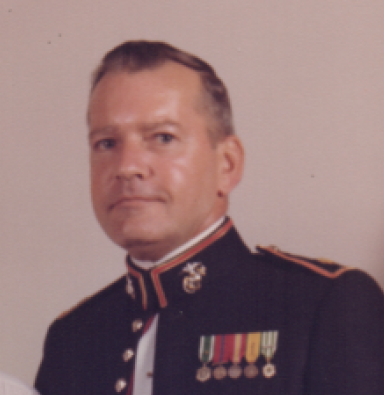 Born in: McMechen, WV
Resided in: Springfield, VA
Mack McGlumphy
US Marine Corps Major (Ret.)
Mack McGlumphy passed away peacefully on Wednesday, January 25, 2023 at the age of 84 surrounded by his loving family.
Mack was born in McMechen, West Virginia on January 14, 1939. He is predeceased by his father, Charles A. McGlumphy, mother, Mae V. McGlumphy, and half-brother George McGlumphy.
He is survived by his wife of 63 years, Susan McGlumphy (Springfield, VA), daughter Misty McGlumphy (Port Saint Lucie, FL), his brother Rev. John (Evelyn) McGlumphy (Elyria, OH), sister Sharon Nickerson (Loraine, OH) and multiple nieces and nephews.
He earned his B.A. in Human Resources Management from Pepperdine University in 1979.
Mack served for 25 years in the US Marine Corps. He participated in every aspect of acquisition and integrated logistic support for a variety of radar and missile weapon systems. He served at all echelons of maintenance support from the field through depot level and was responsible for the operational readiness and equipment support management of a wide range of communications electronic equipment. During this time, he served two tours in Vietnam and was on active duty at all US Marine Corps US bases.
Following his career in the US Marine Corps, Mack joined Technology Service Corporation (TSC) in 1983. During his 23-year career at TSC, he spent over 14 years providing systems engineering, research and development, and program management support to the Combat Systems Engineering Branch of the U.S. Navy AEGIS program on the Navy's MK 99 Fire Control System. For the last nine years he provided technology assessment support to the AEGIS director of Advanced Technology/Chief Scientist and to the Deputy Executive Agent for Vacuum Electron devices. He investigated and evaluated enabling radar and directed energy technologies that were potential candidates for development, acquisition and transition into future combat systems for surface combatants.
He was also a member of the Elks Lodge 2188 in Fairfax, Virginia. He was an active member of their golf group. At 82 years old, he hit is first hole in one. He remarked that it only took him thirty years to get it.
Mack lived up to the Marine Corps motto in every way: Semper Fidelis. Always Faithful.
Mack will be buried at Arlington National Cemetery on May 25th at 12:15PM. Guests are asked to meet at the Administrative Building 45 min prior to the service. In lieu of flowers, the family has asked for donations to be sent to the Spastic Paraplegia Foundation: https://sp-foundation.org/.
Services
Graveside Service: May 25, 2023 12:15 pm
Arlington National Cemetery
1 Memorial Drive
Arlington, VA 22211


Add to My Calendar
2023-05-25 12:15:00
2023-05-25 12:15:00
MackMcGlumphyGraveside Service
Graveside Service
1 Memorial Drive,Arlington, VA 22211
Memories Timeline
Guestbook
Sign the Guestbook, Light a Candle