Lucy Norman Spencer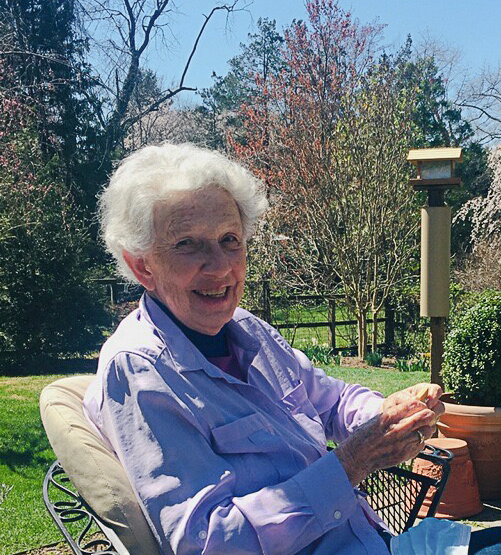 January 26, 1936 ~ November 29, 2021
Lucy Ann Norman Spencer

(January 21, 1936–November 29, 2021)


Lucy Ann Norman Spencer was born on January 21, 1936 in her family's home in Waynesboro, Tennessee. She was delivered by her grandfather, the town doctor. Lucy was the second child born to Mabel Pearson Norman and Paul Eve Norman, Sr. She was one of a dozen cousins who all gathered for Sunday dinners at the grandparents' house. Growing up in the beautiful, green rolling hills and clear-running creeks of Middle Tennessee gave Lucy a deep love of nature and a sense of refuge in the company of living things.

Lucy and Paul Jr. attended the Waynesboro Public Schools. Lucy matriculated at the University of Tennessee, Knoxville and graduated in May of 1958 with a B.S. in Elementary Education. She was married to Charles Sackett Spencer, Jr. on June 9, 1962 in the Cumberland Presbyterian Church in Waynesboro, Tennessee, her family's church home where she had been baptized as an infant, and confirmed as a youth. The Spencers were blessed with two daughters, Stephanie Sue Spencer (b. 1963) and Catherine (Kate) Spencer (b. 1970).

The couple met in Nashville and lived there and in Charleston, SC, until Charlie finished his Ph.D. in Political Science at Vanderbilt University in 1966. Lucy taught elementary school from 1958 to 1963. Charlie and Lucy joined the Foreign Service in 1966, and made Arlington, Virginia their home between overseas postings. When Stephanie was little they lived in the Middle East, including Beirut, Lebanon; Cairo, Egypt and Tunis; Tunisia. Because of the Six Day War in 1967, the family was evacuated from Cairo and spent six weeks exploring ancient sites in Greece, before resuming that posting in Tunisia.

After Kate came along they went to Lima, Peru. There, Charlie directed U.S. Information Agency (USIA) research throughout South America until November 1973. Since January 1974, the Spencers have made their home on North Vernon Street in Arlington. They joined Rock Spring Congregational United Church of Christ in 1976.

In all she did, Lucy was an artist, keenly observing, contemplating, and responding to the world. Lucy was a conceptual (not strictly representational) artist with astoundingly diverse influences. She was a docent at the original African Art Museum and the National Gallery of Art in the 1970s. She read voraciously, coming home with stacks of esoteric library books every week. She took art classes everywhere the family lived, including studying drawing and painting in Peru, and expanding her skills at the Corcoran School of Art, Glen Echo Center for the Arts, and the Arlington Art Center.

She transformed the basement into a studio for multiple media. In addition to painting, drawing, and woodblock printing, she gravitated toward sculpture in myriad media and techniques—ceramic, wood, stone, glass, metal, natural materials like bark, salt and paraffin, and even porcelain casting, blacksmithing, welding. She was always working out deep ideas and technical challenges in her art. When she was finally able to apply for graduate school in middle age, the prestigious Maryland Institute College of Art told her she did not need a degree. Lucy exhibited sculpture at juried shows throughout local galleries in D.C. Our family's house and yard are full of Lucy's art.

Lucy was a prolific and very gifted poet. She wrote alongside her visual art creations, and she passed her love for both art and writing to her daughters. Kate is a wildly gifted artist, and Stephanie credits her keen eye in archeological sites and in cross-cultural settings to learning to "see" from Lucy. Both value the depth of language appreciation they inherited from both parents.

Lucy saw a responsibility to right wrongs and make the world a more just place. Lucy and Charlie took their girls on protest marches, and they continued marching for environmental, LGBTQ, and immigrant causes. Lucy's activism in later years centered on preserving trees in Arlington, preventing water pollution through reforming coal-mining practices in Appalachia and the Keystone XL Pipeline, and supporting newcomers in the DC metro area both through Rock Spring Church programs and personal connections to Appalachian and local projects.

Because she loved children, and was provided only with beloved "grand-cats" by her daughters, Lucy and Charlie have cherished their several honorary grandchildren. They also sponsored children abroad. Their first "grandchildren" were Caryl and Elisabeth, the daughters of Stephanie's college friend Susan and her husband Ken. Lucy loved watching them grow up as they moved between Foreign Service postings and Northern Virginia starting in the 1990s. Mae and Ryan grew up next door, with their parents Deborah and John, and Lucy and Charlie followed them from childhood to college graduation. More recently, when Alina, Miles, and their parents, Valerie and Chris, moved next door, Lucy and Charlie found more adopted grandchildren. They have delighted in visits from their adoptive grandchildren, attending their celebrations, and sharing the natural wonders of their backyard with them. Stephanie and Kate have been ever so thankful that these wonderful young people have been part of their parents' lives.

Lucy was well known for her healthy practices, especially gardening and walking several miles most days. She also practiced Qigong and many physical therapy routines daily. That is why when on November 24, 2021 she suffered a stroke and a brain hemorrhage, she was able to hover long enough for family to gather and help shepherd her to eternal peace over several days. She succumbed peacefully on November 29, 2021 at the Virginia Hospital Center in Arlington. Burial plans include cremation and inurnment at the Norman family plot in the Greenwood Cemetery in Waynesboro, Tennessee, when COVID conditions permit.

Lucy was always an interesting conversationalist and shared her opinions and observations liberally. Those who love her appreciated these traits and honed their debate skills as her conversation partners. Our worlds are diminished without her colorful physical presence, engaging ideas, energy, and creativity. We are thankful that her love, her words, and her artworks will accompany us in the days and years ahead.

Her older brother, Paul E. Norman, Jr., of Jacksonville, FL, and their parents preceded Lucy in death. Immediate family survivors include: husband Charles Sackett Spencer, Jr. of Arlington, VA, and daughters Stephanie S. Spencer (the Rev. Dr. Arlene K. Nehring) of Castro Valley, CA, and Catherine (Kate) Spencer of Pacific Grove, CA.
Memories Timeline
Guestbook
---