Lonsdale Niblett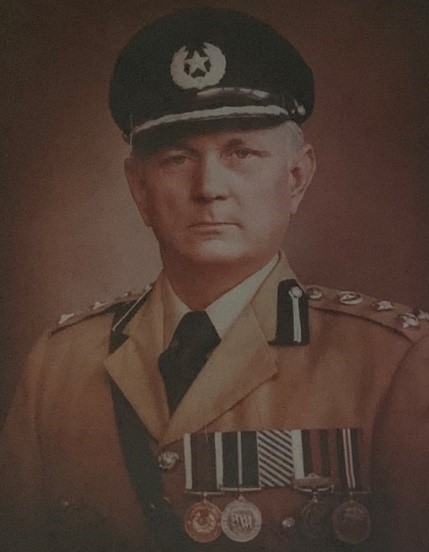 April 4, 1926 ~ June 9, 2019
On Sunday, June 09, 2019, the Anglo-Indian community lost one of its most outstanding, respected, and beloved members: Lonsdale Niblett, who served as Deputy Inspector General (D.I.G), Rtd. of the Punjab Police in Pakistan for 41 years. His illustrious career included numerous honors and awards. These include: escorting international dignitaries such as the Queen Elizabeth II, First Lady of the United States (US), Jacqueline Kennedy, and a special recognition by the US Government.
He was born in 1926 in Lucknow, India and joined the Royal Indian Air force in 1943. After Partition when the British left India, he moved to Lahore (Pakistan) where his Mother and sister lived. He began his career there as a Police Sergeant in the Punjab Police force. He proved his grit and rose through the ranks to retire as the Deputy Inspector General of Police (D.I.G), the second highest ranking Police Officer in Pakistan of Anglo-Indian descent. As a testament to his bravery, he was nominated for the President's Police Medal for courage in the line of duty. As Captain of the Police Motorcycle Team, he performed daring motorcycle stunts such as riding through walls and rings of fire. Post-retirement, he was instrumental in building the renowned Chand Bagh School. Throughout his life, he was regarded as a strong yet fair and honest person who served with honor and helped many.
He immigrated to the US in the 1990s, following his family to Northern Virginia. He spent the remainder of his retired years being active in the Northern Virginia community, helping wherever he could. He enjoyed volunteering with Meals on Wheels, walking, reading, traveling, and being a doting husband, father, grandfather, and great Grandfather. He lived and died as a pillar of his community and a giant among his peers. He is survived by his sons Larry and Dale, his daughter-in-law Cheryl, his grandchildren Tanya, Duncan, Iris, Adrian, and Clara, his granddaughter-in-law Vicky, and great-grandchildren Zaiden and Marshall.
Memories Timeline
Guestbook
---