Kenneth H. Bohlin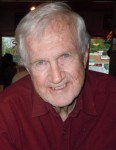 October 27, 1930 ~ October 26, 2017
Kenneth H. Bohlin, 86, passed away at his home in Alexandria, VA on Thursday, October 26, 2017, one day shy of his 87th birthday. He was born in Brockton, MA, on October 27, 1930, to Henry C. Bohlin and Helen V. Shaw.
Kenneth graduated from MIT in 1952. After graduating, he served as an Officer in the U.S. Navy during the Korean War. Kenneth worked as a Mathematician, Senior Scientist for the remainder of his career supporting defense intelligence.
He is survived by his wife of 39 years, Michiko Bohlin; son, Kenji Bohlin and his wife Cynthia Bohlin; his daughter, Misako Bowman and her husband Andrew Bowman; and his four grandchildren, Claire, Audrey, Henry, and Benjamin.
The funeral service will be on Tuesday, October 31, at 11am at St. Louis Catholic Church in Alexandria, VA, with interment at the Quantico National Cemetery at a later date. In lieu of flowers, please send donation to the monastery of Poor Clare in Alexandria, VA.
Service
St. Louis Catholic Church
2907 Popkins Lane
Alexandria, VA 22306
October 31, 2017
11:00 AM
Burial
Quantico National Cemetery
18424 Joplin Road
Triangle, VA 22172
November 3, 2017
11:00 AM
Memories Timeline
---