Joseph Ryan Schubert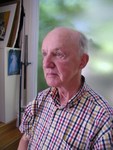 April 11, 1932 ~ February 15, 2017
Joseph Ryan Schubert, 84, died at his home in Alexandria, VA, on February 15, 2017, from complications related to Parkinson's disease.
He was born on April 11, 1932, in Newark, NJ, to Charles B. and Marguerite Ryan Schubert. After graduating from the Montclair (NJ) Academy and the Catholic University of America, he completed seminary studies and was ordained as a Catholic priest in 1961. He served as an associate pastor for parishes in Oxon Hill and Leonardtown, MD, before leaving the priesthood in 1970.
He then worked as a documentary filmmaker in Louisville and completed a master's program in adult education at Harvard University before returning to Washington to direct programs in career development, training, and communications for the National Association of Educational Broadcasters and for Joint Action in Community Service. In 1983 he joined the U.S. Office of Personnel Management's Office of Communication and Office Skills as a training instructor. Five years later he moved to the U.S. Department of Energy as an employee development specialist, designing and delivering training programs in presentation skills, public speaking, and career development. After retiring from the federal workforce in 1998, he continued teaching and developing courses for the Graduate School, USDA, and other clients.
Schubert was a talented artist who won many awards for his watercolors and acrylic paintings, which were accepted into juried exhibitions of the New England, Southern, and Baltimore Watercolor Societies, the Potomac Valley Watercolorists, the Art League of Alexandria, and other organizations. He was represented by the Zenith Gallery in Washington, DC, and the Kevin Butler Gallery on Martha's Vineyard.
He also was active for several decades as an actor, director, and designer for community theaters in Northern Virginia, particularly the Little Theatre of Alexandria and Port City Playhouse.
He is survived by his partner of 39 years, Duke Johns; two sisters, Eunice Fallon of Boston and Marguerite Seth of Monkton, MD; a brother, Charles Schubert of Castle Rock, CO; and many nieces and nephews.
A memorial mass will be celebrated at 1 p.m. on March 11 at Saint Louis Catholic Church, 2907 Popkins Lane, Alexandria, VA 22306. In lieu of flowers, memorial donations in his name may be made to either the Parkinson Foundation of the National Capital Area, 8830 Cameron Street #201, Silver Spring, MD 20910; or the Art League, 105 North Union Street, Alexandria, VA 22314.
Service
Saint Louis Catholic Church
2907 Popkins Lane
Alexandria, VA 22306
March 11, 2017
1:00 PM
Memories Timeline
---