Joan Marie Maloney Roberts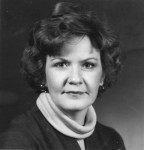 April 6, 1948 ~ December 26, 2018
Joan Marie Maloney Roberts passed away peacefully on December 26, 2018 in Alexandria (Mount Vernon), Virginia. She was born on April 6, 1948, in Tokyo, Japan, to Samuel Walter and Katherine (McCracken) Maloney, where her father was a member of one of the first U.S. Air Force units into Japan at the end of World War II. Joan grew up in Midwest City, Oklahoma and graduated from Oklahoma State University (B.A., Political Science) and the University of Illinois at Chicago Circle (M.A., International Affairs).
Joan married Kenneth Roberts on May 14, 1977 at the Saint Louis Catholic Church in Clarksville, Maryland, and they enjoyed 41 years of happy marriage. She is survived by Kenneth and by their daughter, Dr. Susanne Roberts (Dr. Richard Yoon), of Fort Lee, New Jersey, and by her sisters, Carol Graves (Paul) of Canandaigua, N.Y. and Barbara Lamb (Terral) of Wills Point, Texas.
Joan's career spanned 39 years of service to the U.S. government. She came to Washington in 1971 to work for the Army Corps of Engineers. She entered the Department of the Army Management Intern Program at the Pentagon (1972-1975), working in Army Intelligence. She worked for the General Accountability Office's International Division from 1975-1978, where she travelled to Europe, Japan, and Africa to evaluate U.S. government programs for Congress. From 1978-1986 Joan worked for the U.S. Department of Treasury's Trade Division, and from 1988-2010 she worked for the Bureau of Industry and Security at the U.S. Department of Commerce where she focused on export controls and licensing the export of U.S. technology to countries of concern.
Joan's passions included pottery, antiquing, travelling, and gardening. She began studying pottery in college and continued with classes and workshops at the Torpedo Factory Art Center in Alexandria until 2016. She and Ken enjoyed many trips abroad to Europe and cruises to the Caribbean and Alaska.
Funeral Services will be held at Pohick Episcopal Church, 9301 Richmond Highway, Lorton, Virginia, on Friday, January 4, 2019, at 4:00 p.m. In lieu of flowers, the family requests consideration of donations to the Alzheimer's Association in Joan's honor at http://act.alz.org/goto/joanroberts.
Service
Pohick Church
9301 Richmond Highway
Lorton, Virginia 22079
January 4, 2019
4:00 PM
Memories Timeline
Guestbook
---