Joan Elizabeth Henderson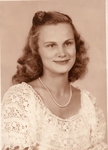 August 23, 1922 ~ September 2, 2014
Joan E. Henderson, age 92, passed away at her home near Mount Vernon on September 2, 2014 with her son and husband at her side. Joan was born on August 23, 1922 in New Philadelphia, OH to the late Harry and Mary Hartman Scheu. Joan was a 1940 graduate of Garfield High School, Akron, Ohio and worked summers at Akron Savings & Loan as an elevator operator. She also worked as a dental hygienist for a Dr. Derr. This was a full-scale dental business where she learned the lost wax technique for making inlays, and that she later employed in the hobby of silversmithing.
Joan's interest in joining the military was peaked by a story in the NY Post after the first group of women had joined the Navy. She went to the recruiting office a few days later but was under age for swearing in and had to take her papers home for her parents' signatures. They signed right away, but not without a lot of crying by her mother. She immediately returned the papers to the recruiting office where she met up with a high school friend and they both went back to Cleveland together for their final physical and swearing in, then on to Boot Camp together. Joan enlisted in US Navy WAVES November 25, 1942. She worked as an Apprentice Seaman HA2C at the Office of Naval Officer Procurement, Cleveland, Ohio. Joan was in the 2nd contingent of women ever to go into the Navy's newly created WAVES.
She was called up in January, 1943 and sent to the Naval Training Station(Women Reserves), Iowa State Teachers' College, Cedar Falls, Iowa, for boot training. It was hard duty marching with snow on the ground and bitter cold temperatures ranging to 20 below zero. After taking some aptitude tests a Lt. JG tried to get her to commit to training in the Navy aircraft engine school. She refused because of her previous dental training and opted to continue that kind of work in the Navy. Around March, 1943, she was sent to the Navy Dental School at the Bethesda Naval Hospital, Bethesda MD, to learn the Navy way of doing dental work. Here, she participated in extensive surgery and mouth reconstruction on casualties from Guadalcanal and learned procedures for cleaning teeth, which by law, she could not do when she was a civilian in Dr. Derr's office. Then, around April, she was transferred to NATTC, Millington, Memphis, TN in the grade of HA1C. While on the train en route she met a US Army Air Corps pilot, Krieger Henderson, and they were married six weeks later on May 20, 1943. Expecting their first child, she was honorably discharged from the Navy on February 9, 1944, with an average Naval Score of 3.9 and later was awarded the WWII Victory Medal.
Subsequently, Joan concentrated on performing the admirable task of being a mother and homemaker supporting her husband in his career goals. A second child, Krieger III, was born at Fort Sam Houston on November 10, 1946. Her first born daughter, Sheran Anne, passed away in 1982. Interspersed in this post-war period was work as a volunteer at Alexandria Hospital, extensive hobby pursuit of oil painting, jewelry making, both in silver & gold employing lost wax techniques, and active church work, most notably in teaching Sunday school classes. A devout animal lover, she and Krieger have had dogs in 66 of their 72 years of marriage, not to mention a substantial number of cats along the way. Now gracing her home for some 15 years are two rescued Beagles, absolutely the most affectionate, loving dogs bringing joy to the soul. Although principally retired -- homemakers can never fully retire -- she honored Krieger's request to teach him how to cook and enjoyed two trips a year to a mountain lodge nestled against the Shenandoah Mountain where the dogs could run to their heart's content. She was an active participant in financially supporting many civilian and charitable causes,
Joan was the beloved wife of Krieger W. Henderson for 72 years, loving and devoted mother of Krieger (Rocky) W. Henderson, III of Cincinnati, OH and the late Sheran Anne Henderson
A Memorial Service will be held at 2:00pm on September 13th at Heritage Presbyterian Church, 8503 Fort Hunt Road, Alexandria, VA 22308. Interment with Military Honors will be held at Arlington National Cemetery at a later date. The family suggests that Memorial contributions in Joan's name may be made to Heritage Presbyterian Church or the US Navy Memorial, Arlington, VA. Please view and sign the family guest book at www.funeralchoices.com.
Memorial Service
Heritage Presbyterian Church
8503 Fort Hunt Road
Alexandria, VA 22308
September 13, 2014
2:00 PM - 3:00 PM
Memories Timeline
Guestbook
---