James Wilks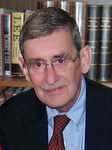 July 18, 1942 ~ August 9, 2014
Jim Wilks died peacefully on August 9th, 2014, in his home in Gainesville, Virginia, with his loving wife Pam Wilks by his side. He was 72 years old. Pam and Jim's children Terry Laub, Tracy Strelser, and Scott Wilks were able to say their farewells as Jim joined their brother Jeff Wilks on the next step of life's journey.
Jim's journey began in Scottsbluff, Nebraska, where he and Pam were born one week apart in neighboring hospitals. We think they met for the first time at Tom & Jerry's Drive-In Restaurant when they were two years old and their parents happened to park next to each other. The family history is blurry on the details, but regardless, Jim and Pam spent their entire lives together, including 53 years of marriage.
Jim has eleven grandchildren around the United States, from as close as Warrenton and McLean, Virginia, to as far as Seattle, Washington. Sadly, one granddaughter is further away, holding her grandfather's hand in Heaven.
Jim took special pride in the accomplishments of his children and grandchildren, often writing glowing emails, essays, or Christmas letters about them, much to the chagrin of the highlighted family member.
While work did not define Jim, he educated himself in information technology and had a successful career in financial services, eventually becoming the President of Douglas-Michael's Corporation in Springfield, Virginia.
At various points, Jim was an aspiring author, an aspiring racecar driver, an aspiring basketball coach, and an aspiring day trader.
However, deep down, his true aspiration was to be a history professor. Jim was a lifelong learner and a history buff. He took pleasure in finding the untold background stories that exposed real history, whether it was his work on WWII mistakes or his essay on why Thomas Jefferson was not as a great a man as he's made out to be.
Given this love of history and education, it's fitting to end Jim's obituary with a quote from one of his favorite historical characters, Robert E. Lee:
The education of a man is never completed until he dies.
Our father's education in this life may be completed, but we hope everyone he knew can continue to learn from his example.
A party to celebrate Jim will be held from 4pm-8pm on Saturday, August 23rd, at the Marsh Mansion in Heritage Hunt Golf & Country Club Retirement Community (13451 Fieldstone Way, Gainesville, VA 20155). In lieu of flowers, donations may be made in his honor to the American Lung Association.
Celebration of Life
Marsh Mansion at Heritage Hunt Golf and Country Club
13451 Fieldstone Way
Gainesville, VA 20155
August 23, 2014
4:00 PM - 8:00 PM
Memories Timeline
---