James "Buck" Hereford, Jr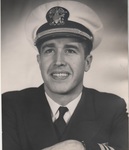 July 17, 1926 ~ February 25, 2017
CAPT James "Buck" Donald Hereford Jr., USN (Ret) 90,
passed away at home February 25, 2017. He was a current resident of Alexandria, VA and longtime resident of Virginia Beach for over 40 years. A native of Wichita, KS, he was born July 17, 1926.
He served for 30 years in the United States Navy and was a World War II Veteran. Following graduation from North High School in 1944 and a year at Missouri Valley College, he began his Navy career in 1945 as an enlisted man and then attended the University of Notre Dame under the Naval Reserve Officer Training Corps program and graduated in 1947 with a BS degree in Business Administration. He was commissioned as an Ensign in June 1947 as a Naval Supply Corp Officer.
He served aboard the USS Noble, USS Eugene A. Greene and USS Hancock. He was the Commanding Officer of Naval Supply Depot Guam. His other tours include: Instructor NROTC at Georgia Institute of Technology, U.S. Naval Post Graduate School, graduate of U. S. Naval War College, DGSC Richmond VA, Norfolk VA, Keflavik Iceland, Mechanicsburg PA, San Francisco CA, Panama City FL, Chincoteague VA,
He was a member of the Order of DaMolay, and OES Chapter 433, of Wichita KS and the National Sojourners 21, Canal Zone. He was a long time member of the Norview Lodge No. 113, AF & AM, American Legion Post 113, and Boys State. Active in Boy Scouts for over 50 years, he served as a committeeman with Troop 372, Virginia Beach, VA and Troop 996, Alexandria, VA. Buck was also active with MOAA, TROAA, Thalia Civic Association and Thalia Methodist Church.
Buck is preceded in death by his beloved wife, Dottie Hereford and son James D. Hereford III. Left to cherish his memory is his sister Mary Lou Ames, his
daughters, Nancy Kissel and her husband Dan; Patricia Boward and her husband Bob. He was the loving grandfather of Donnie, Karen, and Jonathan Hereford;
Kyle and Kristen Boward; Rachel Kissel and great granddaughter Julia Hereford.
The family wishes to extend their sincere gratitude to Capital Caring.
Buck will always be remembered for his sincere dedication, his bright smile and quick wit.
A memorial service for will be held at 2 p.m. on Saturday, March 18th at Aldersgate United Methodist Church, 1301 Collingwood Road, Alexandria, VA
22308.
In lieu of flowers, the family request contributions be made in Buck's memory to: BSA Troop 996, c/o Aldersgate UMC, 1301 Collingwood Road, Alexandria, VA 22308.
Service
Aldersgate United Methodist Church
1301 Collingwood Road
Alexandria, VA 22308
March 18, 2017
2:00 PM
Memories Timeline
---