Eva G. Jackson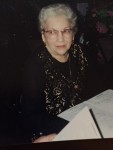 July 20, 1924 ~ December 4, 2017
Eva Mae Grooms Jackson passed away peacefully at Mt. Vernon Nursing & Rehab Center in northern Virginia on Monday, December 4, 2017. She is survived by her son Reginald N. Jackson, Jr. and his spouse Kevin Pleasant, her daughter Jerma Jackson, and a host of family, neighbors and friends who enriched her life in countless ways.
Eva was born in East Bank, West Virginia on July 20, 1924, to Cora and Richard Grooms. In the late 1940s she moved to the Peninsula with her husband, Reginald N. Jackson, Sr. whom she lovingly called "Jack." She worked at the Phyllis Wheatley Branch of the YWCA as a secretary for more than twenty years. Over the course of her life she took immense pride in her home and relished in a competitive game of pinochle with friends.
A life celebration for Eva G. Jackson will take place at 11:00 a.m. on Saturday, January 6, 2018. The memorial will be held at the YWCA Virginia Peninsula, Phyllis Wheatley Branch at 2702 Orcutt Avenue in Newport News, Virginia.
In lieu of flowers, donations in Eva's memory can be made to the Alzheimer's Association (800-272-3900; P. O. Box 9601, Washington, D.C. 20090; www.alz.org).
Celebration of Life
YWCA Virginia Peninsula, Phyllis Wheatley Branch
2702 Orcutt Avenue
Newport News, Virginia 23607
January 6, 2018
11:00 AM
Memories Timeline
---