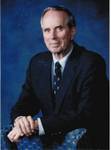 February 18, 1927 ~ June 28, 2013
Earl Campbell, age 86, of Arlington, VA died on June 28, 2013 at Halquist Memorial Inpatient Center. He retired in 1995 from his last part time and full time job as a realtor in Arlington, VA.
He was born and raised in Covington, KY to the late Earl and Frona Morgan Campbell. The day after graduating from high school he was drafted into the U.S. Army during World War II. After the war he attended the University of Kentucky and graduated from Georgetown College.
After college he worked as manager for F.W. Woolworth stores in the Midwest for nine years. He then came to Washington, DC to manage the Frank R. Jelleff chain of ladies' apparel stores for three years, after which he became the Property Manager of Southern Towers apartments. Approximately five thousand people lived there and it was one of the largest in the metropolitan area. He managed Southern Towers for 20 years. Thereafter he became co-owner of Aristo Cleaners in Virginia and D.C. until retiring.
For eighteen years he was a director and for several years, President, of the Alexandria Girls and Boys Club. He won their Distinguished Service Award in 1990 and was given the Alexandrian-of-the Year Award in 1978 by the Alexandria Jaycees.
He was Director of the Alexandria Chamber of Commerce from 1970-1974, and President in 1973. The City of Alexandria issued a Proclamation for serving on the Landlord-Tenant Relations Board from 1971 to 1982, and was President for two to three years.
In 1977 he was Chairman of the United Way Campaign, and this was the most successful in Alexandria history and also the Washington Metropolitan area. In 1981 Mr. Campbell was a Director of the Red Cross when the Spring River Festival on the Potomac started. He helped plan and start the first festival that has become the most profitable fund raiser I the U.S. He was also a Director of the National Orthopedic Hospital for three years in the early 1980's. He received several Certificates of Appreciation from Arlington County in the late 1990's and 2000 for participating in "Voters in Partnership Program".
In 1995, the governor of Kentucky commissioned Mr. Campbell a Kentucky Colonel.
He was a member of Washington Golf and Country Club since 1961, and his interests included Golf, since 14 years old, bridge, sports and reading.
His wife of 38 years, Dean M. Campbell, died from cancer in 1999. Earl was the uncle of Janet Murphy of Indianapolis, IN and Dave Turner of Charlotte, NC.
A Life Celebration service will be held on Saturday, August 24th from 2 to 4pm at the Barkley Condominium's Party Room, 1016 South Wayne Street, Arlington, VA.
Graveside services with military honors will be held at Arlington National Cemetery's Columbarium, where he will be placed with his wife, Dean, at a later date.
The family suggests that memorial contributions may be made to HOPE Spray/Neuter Clinic, P.O. Box 23, Versailles, KY 40383 or Honorable Order of Kentucky Colonels, 1717 Alliant Avenue, Suite 14, Louisville, KY 40299.
Life Celebration Service
Barkley Condominium's Party Room
1016 South Wayne Street
Arlington, VA
August 24, 2013
2:00 PM - 4:00 PM
Cemetery
Arlington National Cemetery

Arlington, VA
September 10, 2013
1:00 PM - 1:45 PM
Memories Timeline
Guestbook
Sign the Guestbook, Light a Candle