Dorothy "Mickey" Lucille Keesee-Lenz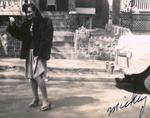 February 27, 1927 ~ March 20, 2015
Dorothy Lucille Keesee-Lenz, "Mickey", age 88, on March 20th, 2015, began her journey on the Highway to Heaven. She was born in Taylorsville, N.C. to Pansy and Gettys Teague. She was the sister of Mary Sue Gordon, Helen Mae Lalton, Charles Smith Teague, and Edna Belle Gottlieb.
At age 2 the family moved to the big city, Washington, D.C. During World War II she became an employee of the Federal Government. After 35 years she retired with the Department of Education. She was involved in the design and implementation of various research projects and statistical information systems. Mickey also assisted in research for Educational Data Systems which is read nationwide. After her retirement she joined her family in Daytona Beach, Florida. She began a new career in Real Estate Appraisals. Her interests included travel, baking, quilting, and entertaining company from up North. She became an unofficial tour guide of Walt Disney World, with over forty visits.
She is survived by; her only daughter, Valerie Sowell (Joe), four beloved grandchildren, Joe III, Wm. "Todd", Andrea, and Kim, her great-grandchildren Mason and Gabby, her only surviving sister Edna, sister-in-law, Rose, and a multitude of loving family and friends.
Family and friends will be received on Tuesday, June 23rd from 10am to 11:30am, where you will be able to enjoy some of Mickie's famous cakes. Funeral services will be held at 11:30am. Graveside services will be held at 2pm at Arlington National Cemetery.
Visitation
Old Town Funeral Choices
1205 Belle Haven Road
Alexandria, VA 22307
June 23, 2015
10:00 AM - 11:30 AM
Funeral Services
Old Town Funeral Choices
1205 Belle Haven Road
Alexandria, VA 22307
June 23, 2015
11:30 AM - 12:30 PM
Cemetery
Arlington National Cemetery

Arlington, VA
June 23, 2015
2:00 PM - 2:30 PM
Memories Timeline
---