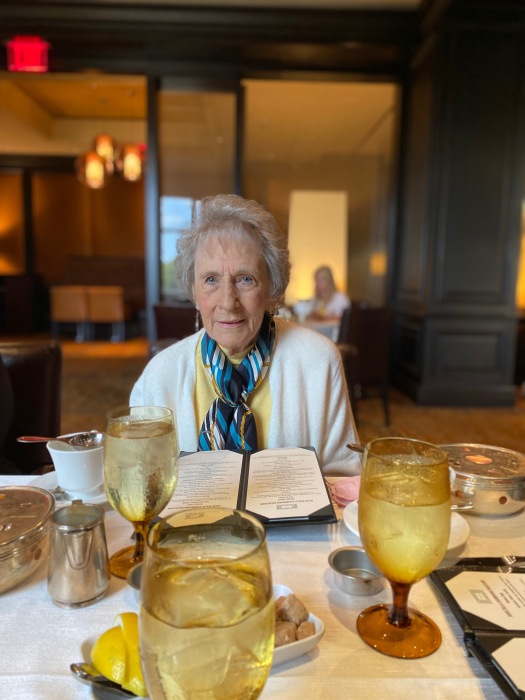 February 6, 1933 ~ February 3, 2022
Born in:
Resided in:
Born on February 6, 1933 to Howard Downs and Delia Francis Middleton Downs, Doris Lee Downs entered the world as the fourth child and was immediately introduced to a life of sadness and tribulation. Her mother tragically died a week after her birth, and through a series of life events, she found herself looking for a new home at the tender age of twelve. She grew up in Washington D.C. in the home of her two spinster aunts, and at the age of eighteen, she married her forever love, Robert (Bob) Franklin Ait. Life dictated she grow up fast, and over the next six years, she gave birth to five children, Diane, Daniel, Mary, Robert and Helen, all whom she viewed as her most prized procession. She never viewed motherhood as arduous, but rather embraced it with her whole heart and counted herself truly blessed to be the mother to her five children. She raised her children with a gentle, self-sacrificing love, a love she eventually extended to her grandchildren and great grandchildren. One of her greatest attributes was her ability to see the good in people, to love them as Jesus would without judgement or criticism. This type of unconditional love, a love she was still practicing even as death came knocking, came from years of Bible reading, many of which she did daily with her beloved life partner, Bobby. It was her greatest joy to read her Bible and commune with her Savior. She never failed to live her life with the sole purpose of fulfilling her role as the matriarch, which she viewed as giving when there was a need, listening when there was a worry and forgiving when there was a wrong.
>
> While motherhood was her first and most precious job, Doris was also an experienced business woman, starting out as a Five and Dime sales clerk at thirteen and retiring as Vice President of her own company, Bison Inc., at age 87. Her work ethic was admirable, and she often welcomed her grandchildren to spend the day with her while she worked. She seamlessly balanced work priorities with making time in the summers to include her grandchildren in her day to day activities, often sharing her love of politics and Rush Limbaugh. As the years passed, she began welcoming great grandchildren into the family, to whom she loving became known to as Dorsey and Nanau. Even in her latter years, her great grandchildren were drawn to her pureness of spirit, and even the youngest would joyfully climb into her lap and enjoy the sweetness of her love.
>
> On January 2022, Doris Lee Ait slipped into eternity, into the loving arms of her Savior and was once again reunited with her life companion. While she will be dearly missed by her family, she leaves behind a legacy of love and kindness that will remain in the hearts of her family for years to come. She is survived by her two sisters, Lee and Virginia; her five children Diane Louise Beachy (Donald Beachy), Daniel Franklin Ait (Roberta Ait), Mary Jane Ait, Robert Lee Ait (Elizabeth Ait) and Helen Jo Temple (Keith Allan Temple, Sr.); seven grandchildren Leslie, Desiree, Devita, Keith, Jr., Anna, Dominique and Christy; and eleven great grandchildren Zachary, Megan, Jonathan, Eden, Lili, Jacob, Amelia, Jubilee, Isla, Everly, Frankie and one on the way, Josie.
Please send flowers to Grace Covenant Church.
Memories Timeline
Guestbook
Sign the Guestbook, Light a Candle