Don H. Easley, Jr.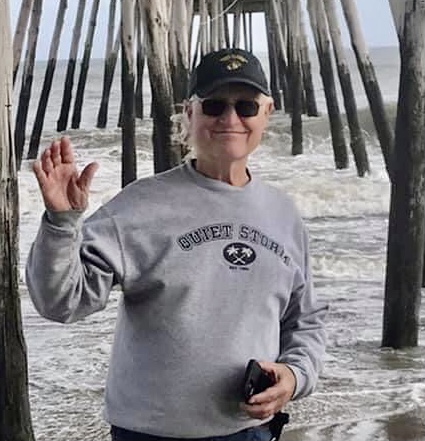 September 29, 1954 ~ October 18, 2021
Our "splendid adventurer," Don H. Easley, Jr., died peacefully on Oct. 18, 2021 at the age of 67. For the last 2 1/2 years, Don bravely fought his cancer diagnosis with many rounds of golf, lots of salt air, and creative house projects at the home he designed in NC. As treatment options dwindled, Don never gave up. He played more golf, went fishing, did more house projects, and entertained new friends on the deck overlooking the beautiful Albemarle Sound in NC.

Don Jr. was born on Sept. 29, 1954 at Walter Reed Hospital in Bethesda, MD to Don and Lavetta Easley. Growing up the proud son of a U.S. Marine, Don lived in California, Hawaii, Washington, and Pennsylvania. When Don's father took his family to Quantico for his last tour of duty, Don Jr. begged his dad to return to California or Hawaii. This young teen had developed a taste for sun-soaked days at the beach that set the tone for 32 years of splendid adventures with his beloved wife, Janice Wolfe-Easley.

Don graduated in 1972 from Garfield High School in Woodbridge, VA. Following graduation, he trained for and became a Master electrician holding numerous licenses in Virginia, Maryland, and the District of Columbia. In 1988, Don established his own business, Miracle Electrical Services. After 33 very successful years, Don retired in 2020. He finished his career with 46 years of service with the International Brotherhood of Electrical Workers (IBEW Local 26).

A man of many interests and talents, Don loved golfing with his buddies; his doubles beach volleyball days with his wife; Parrothead club activities; concerts; his classic 1969 Mustang; Mexico memories; relaxing with a good sci-fi/fantasy book; cheering on the Washington Redskins, Nationals and Capitals; movies with a large popcorn; beach vacations; sunsets and sailing; adopting cocker spaniels; hosting happy hour deck parties; and dancing with his granddaughters in the kitchen.

Don is survived by his loving wife, Janice, of 32 years; one son, Don III (Angie); one sister, Sharon (Ronnie); two granddaughters, Adalynn and Corinne, who adored him and whom he adored; and one cocker spaniel, DJ, that misses him terribly.

Don's sense of humor, fun-loving nature, and warm personality made everyone feel welcome. He loved life; his favorite quote hung in his office and clearly reflects his thoughts on life:

"Life is not a journey to the grave with the intention of arriving safely in a pretty and well-preserved body. But rather, to skid in broadside, thoroughly used up, totally worn out, and loudly proclaiming .... WOW what
a ride!!

Our hardworking, witty, fun-loving husband, father, grandfather, brother, boss, and friend will live on in our hearts forever. A celebration of Don's "ride" will be held on Sunday, November 14, 2021 in the Hunter Room at Embassy Suites (8100 Loisdale Road Springfield, Virginia 22150) from 1:00 to 5:00.

Don's memory can be honored by making a donation to your favorite charity, through a simple act of kindness, or by sharing a good joke.

Memories Timeline
Guestbook
---