David Dwight Trucksess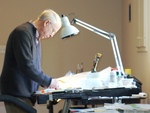 May 10, 1935 ~ March 18, 2016
David Dwight Trucksess passed away on March 18, 2016 in the arms of his wife and surrounded by his family. David was born in Brownsburg, Indiana on May 10, 1935 to Dwight and Helen Trucksess. He grew up with two older sisters, Janet(Moore) and Lynn(Irvine) and one younger sister, Esther. His family moved to Greenbelt, Maryland and then settled in Herndon, Virginia when David was still a young boy.
David's life was always filled with music. He loved singing from an early age, and performed in school plays and for his family, aspiring to a career on the stage(as his father had once briefly had as an off Broadway performer). After graduating from Herndon High School he joined the Army, He stationed in Korea and earned a Good Conduct medal and was rated as a Marksman with K1 Sniper Rifle. After honorable discharged from the Army he was admitted to the Julliard School of Music where he studied voice and obtained a B.S. degree in music. There, he also grew to love languages and throughout his life, enjoyed singing in almost every language, especially the challenge of the learning proper pronunciation and enunciation.
While studying in New York, David met a beautiful Chinese woman named Yok Lin (Mary) Wat. They dated for three years before they wed in Washington, D.C., despite protests from some family members and the fact that it was illegal in Virginia for a white person to marry a non-white person. He gave up opportunities for the spot light to pursue his real dream which was to raise a beautiful family. He worked part time teaching music in a D.C. catholic high school while studying music and education in The Catholic University of America. After obtaining his M.S. degree in music David taught music at Bladensburg High School for two years and Robert Frost Intermediate for more than twenty years. He enjoyed teaching and directing choral music and musical plays there.
David was a devoted husband and father. He picked up Mary from the American University after her evening classes several times a week for more than four years while she pursued her advanced degree in chemistry after work day time at the FDA. David and Mary lived in Herndon, Virginia during the Vietnam and post-Vietnam era, a time when it was challenging to raise mixed-race children. They had four children - Lin (Stillman), Eric, Jane(Truxess) and Mark. David nevertheless gave his children a childhood very much like his own-raising his children with Sunday dinners with his own parents and extended family, making sure family grew close especially with respect to sister Lynne's daughter (Robin Trumbo), growing a garden in his backyard, taking them fishing, taking them on road trips so that they could see the country and visit his sister Janet's family in Texas, and teaching his children to love music and the outdoors.
Eventually David and Mary moved their family to Oakton, Virginia to the home where they continued to live in up until the present time. After retiring from the Fairfax County Education system David delved into stained glass making, painting and singing. He enjoyed traveling - anywhere with Mary - also to visit his daughter Lin and her family in California (and to attend painting workshops conducted by his cousin Ann Pierce, a prolific watercolorist, and with his sister, Janet). He enjoyed playing slots with his two sisters, Lynn and Esther. David also loved to visit Mary's brother and his family in Hong Kong, and her sisters, Frances Blunt and Grace Marshall in England. Spending time with family and friends was David's great pleasure, passion and priority throughout his life.
David painted prolifically for many years, but stayed with his first passion and love (besides Mary) which was singing. He sang in a Norwegian choir for years, in the Reston Chorale, the Vienna Choir, in other local choirs and most recently, the choir at St. Mark Catholic Church in Vienna, Virginia. Most of all, he loved to entertain and sing for his family at every opportunity he had, always accompanied on piano by his son Eric, with whom he recorded several albums of songs that David loved. He loved to sing love songs to his wife Mary, to whom he had been married for 53 years, to travel with her and to do almost anything with her. He loved fishing with his son Mark, to be out on the water in a boat and to share his favorite hobby. He loved to talk with his daughter Jane, and looked forward to her daily noon-time calls - making sure he was okay when Mary was working or away. He loved to visit his daughter Lin, to explore California, and looked forward to her frequent trips home with her children. He also loved teaching his grandson Alex to play piano and to be a part of Jane and her husband Toby(Tipton)in helping to raise and nurture Alex.
David learned he had pancreatic cancer in early February 2016. After the initial shock, he told his family how lucky he felt that he wasn't going to die suddenly as some do without the opportunity to talk to his loved ones and tell them what they meant to him. Even in the face of such a terrible diagnosis, David saw the silver lining, but also was determined to fight the cancer and live as long as he possibly could. While suffering through illness and treatment, David spent all the time he could being in the moment, enjoying his wife, children and family, laughing when he could, talking with each of them about his concerns for their welfare and his love for them, He passed away on a Friday, March 18 after Mary decided to bring him back to his home where he longed to be, and was cared for by her and his children until his last moments.
David is survived by his wife Mary and by all his children, Lin Stillman(and her husband Jeff and their sons, Martin and Wyatt), Eric, Jane Truxess (and her husband Toby, and their son Alex) and Mark (and his children Austin and Dallas); by all his sisters, Janet (and her husband Gene and their children Carolyn Moore-Van Dyke, Sandy Steele, Gayle Barrera and Bill, and their grandchildren Alex Moore-Van dyke, Montana Steele, Helena and Cristina Barrera), Lynn (and her daughter Robin Trumbo, her husband Charlie and their children Zach, Bekah and Elijah). and Esther; by Mary's siblings, Joseph Wat (and his wife Bella and their children Suzanne, Pamela, Josephine and Dennis), Frances Blunt (and her husband James and their children Hay-Ming and Hay-Sun) and Grace Marshall (and her husband Clint).
We love David. He remains as an important part of our life.
Funeral Home
Funeral Choices
14522L Lee Road
Chantilly, VA 20151
Memories Timeline
Guestbook
---