Damte Haile Dessta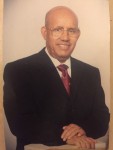 January 18, 1940 ~ September 21, 2018
On September 21, 2018, Damte Dessta of Arlington, Virginia, passed away at the Inova Hospital in Alexandria, VA.
He is survived by his beloved wife Esete, his seven children, Reda, Tigist, Beth, Tsion, Rahel, Belyu and Michael and 9 grandchildren, Betonya, Jacob, Noah, Elyana, Jabez, Yosabeth, Mia, Manuela and Mikael.
A funeral service will be held on September 25, 2018 at Memorial Baptist Church, 3455 North Glebe Road, Arlington, VA at 11:00 a.m. to be followed by his burial at Columbia Gardens Cemetery, 3411 Arlington Blvd, Arlington, VA.
The family will receive friends and all who want to visit the same day after the burial at Meaza Restaurant Hall at 5700 Columbia Pike, Falls Church, VA.
Service
Memorial Baptist Church
3455 N. Glebe Road
Arlington, Virginia 22207
September 25, 2018
11:00 AM - 1:00 PM
Burial
Columbia Gardens
3411 Arlington Blvd.
Arlington, VA 22201
September 25, 2018
1:30 PM
Memories Timeline
---