Burton Grey Tysinger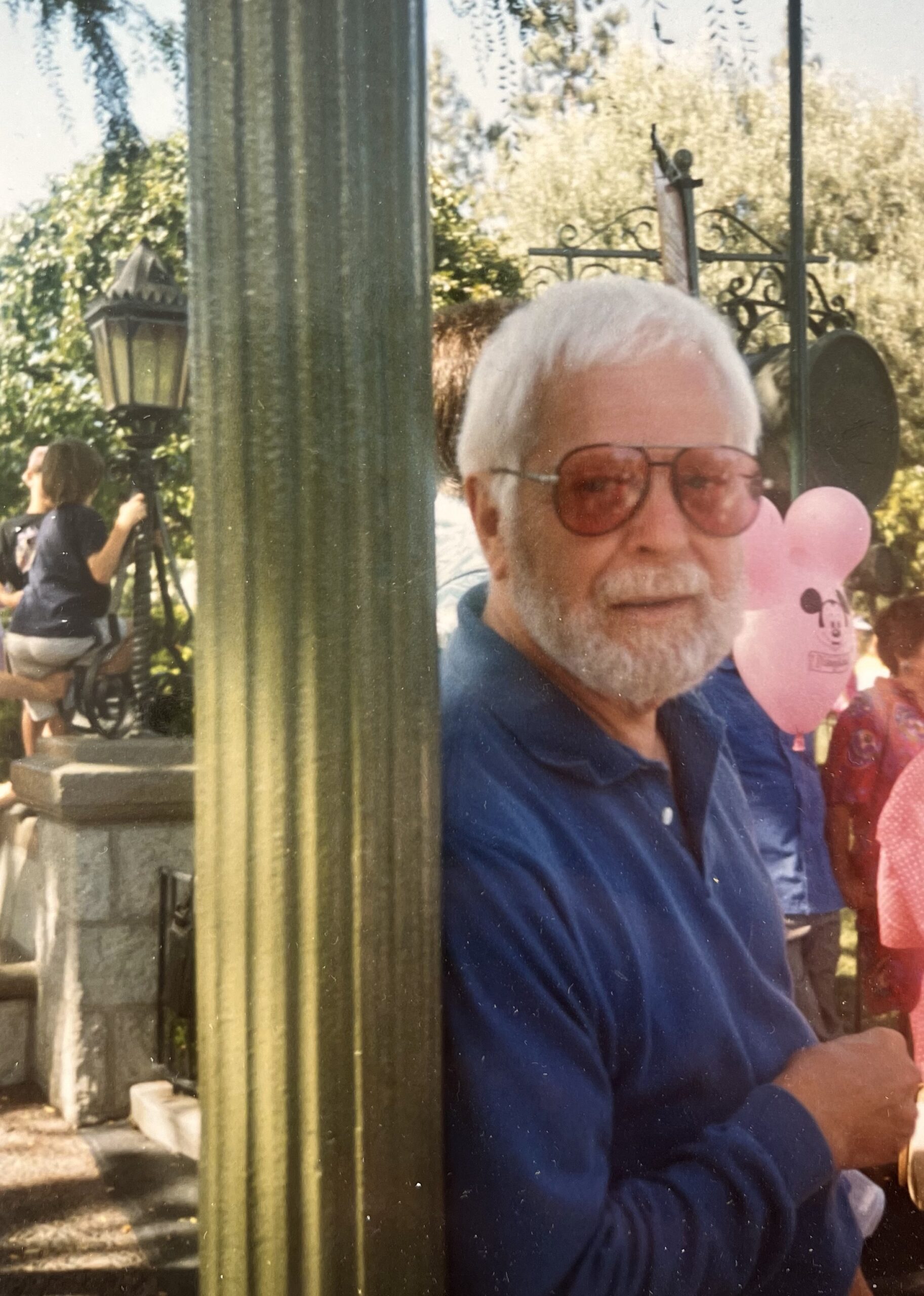 Burton Grey Tysinger, a polymath who epitomized a Renaissance man among the Greatest Generation, ascended back home to the Universe on September 1, 2023, the fourth day of his 100th year. Burt was born on August 28, 1924 to Robah Burton Tysinger and Lula Grey Mitchell of Greensboro, North Carolina. He was preceded in death by his parents; eldest brother, Georgia State Senator James Wesley (J.W.) Tysinger; former wife, Martha Kathleen Ryder Tysinger; premature twins, Anne and Burton, Jr.; and life partners, Jim Connolly and Eric Ward.
Burt honorably served in the United States Navy during World War II (England, 1943-1946) before he started his family and professional career. Burt and Kathleen married in 1946. After a year at UNC Chapel Hill, he studied architecture and graduated from Penn State (1948). Burt attended and graduated from Pratt Institute (1951) in New York, where he majored in Industrial Design and taught several night classes.
Burt's art career began as a high school teenager when he received a scholarship to the Abbot School of Art in Washington, D.C.  Originally, he became a spare-time painter while pursuing a professional design career in New York. Burt was hired as a designer at Knoll International and at Taylor Chair Co. Concurrently, he then founded the Adam Grey Art Gallery and opened his own design firm, Burton Tysinger Design Co, in Manhattan. He specialized in residential architecture, product design, corporate identity programs, advertising and graphic design, weaving and ceramics, exhibitions and displays, photography, corporate identity programs, and marketing for various clients.
One of the subsidiaries of Burt's firm was Tysinger/Rock Associates Incorporation. Although they won several competitions, their landmark was featured on the cover of Ebony magazine (1961). Tom Rock had received an invitation from the United States Government, and he selected Burt to collaborate in the design of exhibition buildings and displays for an eight acre Ghana Trade Fair, Africa. The fair strengthened skills and relations between both countries.
Realizing he wanted to be a designer rather than an owner of a design firm, Burt closed his firm and became Vice President and Director of Design for Rogers Associates with offices in New York, Boston, Chicago, and San Francisco. Among other projects, his department documented and wrote the architectural programs for the Sears Tower and Montgomery-Ward headquarters in Chicago, as well as the Boston Company Headquarters in Boston. Rather than commute every day to Connecticut, when Rogers Associates moved its offices, Burt became the inaugural Interior Design Director for the architectural firm of Smith, Hinchman, and Grylls in Detroit. General Motors and the Chrysler Corporation were among many clients.
Burt divorced in 1969 and built a life with Jim between homes in New Jersey and Connecticut. Eventually, they moved to Westwood, Laguna Niguel, and Costa Verde, California. Burt became Director of Interior Design for Pierra Associates, an international architectural firm in Los Angeles. His department wrote the architectural programs and designed the interiors of the firm's clients, including the Lockhead Aircraft corporate headquarters, the LAX International Terminal, the 20th Century Fox Building, and the Pierra Building. When Mr. Pierra died, the firm was sold, and Burt moved to San Diego. Jim died in 1986.
In 1989, Burt formed the design firm of Tysinger/Ramsey and later built a life with Eric in Laguna Beach and LaCosta. They traveled extensively in Europe, Africa, and Asia, particularly China. In addition to Burt's company duties, he was a Board member of the California Ballet and became especially active in food and wine circles. Burt was a member of the National Board of The American Institute of Wine and Food, a national organization founded by Julia Child and Robert Mondavi. He was Chairman of all chapters (37) and a member of the National Board Executive Committee. Culinary highlights were cooking alongside Julia Child and Jacques Pépin.
Burt was Vice Chairman of the Design Committee for the National Office Furniture Association. He was a lecturer and panel member on discussions of design and won awards in several furniture competitions. Additionally, he designed and planned the first office landscape in North America for Consumer Gas Co. in Toronto, as well as three million square feet of open planning for Uniroyal, AT&T, United Fruit, ARCO, Blue Cross of Southern California, the IRS, and Lloyds Bank.
Burt was also instrumental in establishing the Oceanside Museum of Art, planning and converting the interior of a historical building into a contemporary art museum, and producing and curating the exhibition that inaugurated the new space. His efforts are documented in several chapters of the book "OMA, The Founding Years." Burt created the logo of the museum, designed exhibition catalogs, and constructed, bought, stocked, and ran the museum gift shop.
In addition to being an accomplished architect and industrial planner, Burt was a versatile couture dressmaker, gourmet chef, wine connoisseur, creative writer, and multi-disciplinary artist, primarily with pencil sketches, oil paintings, and, most notably, boldly colored modernist geometric and dowel assembled sculptures.  In time he realized he preferred to express himself three dimensionally. After seeing a Jackson Pollack exhibition, he was inspired to apply his love of bright colors (acquired from working with Florence Knoll) to his constructions of thin brass rod sculptures.
In 2004, Eric died and Burt moved to Wake Forest, North Carolina, where he had a large studio in his home. Burt retired as a professional designer to become an award-winning full-time sculptor. His paintings and sculptures were exhibited at the Connecticut Academy of Fine Arts and the Museum of Fine Arts Boston in addition to other shows nationally and internationally, while found in corporate and private collections across the United States. Solo exhibitions of his work were held at the VAE in Raleigh and Focal Point Gallery in Chapel Hill, as well as other galleries in California, Virginia, and New York. Burt moved from North Carolina to Ashburn, Virginia in 2015.
Burt is survived by his daughter, Kathleen Grey Tysinger Holstad of South Riding, Virginia; son, Kurtice Grey Tysinger of Beckley, West Virginia; and cousins and nieces in North Carolina, Georgia, and Illinois. He is Grandpa Burt to Alison Holstad, Kristen Sharpe, and Lesli Ferguson and Papa Burt to Davis, Cameron, Taylor, Mackenzie, Hailey, and Shea. Burt will be greatly missed by his dear friends: Lloyd Adkins, Len Sahl and Roger Collins, Marc Erickson and Frank X. Dunhuber, Yolanda Madyun, and the Bowser family.
Heartfelt gratitude is extended to John Steele, Loudoun County Department of Family Services Specialist; Heather Schmitt, Director of Social Services, and other compassionate staff – particularly Maha, Herman, Dr. Ansari, Saafi, Jennifer, Dr. Monica, Marie, Seble, Tammy, Flora, and Rose – at Potomac Falls Health and Rehab Center; and Capital Caring hospice day angels Tiffany Plante, Vlonda Smith, Lisa Kirwan, and our night angel, Krystal.
Burt requested no memorial service. A Navy Burial at Sea committal ceremony will be performed at a later date.

Memories Timeline
Photo Gallery
Guestbook
---