Beverly Jean Carr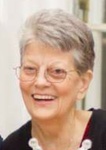 February 8, 1941 ~ May 10, 2017
Beverly J. Carr, beloved mother, grandmother, great-grandmother, sister, friend to all, and servant of Christ, entered her heavenly home on May 11, 2017.
She is remembered for so many good things, but most of all, for her love and devotion to her Savior. Beverly was born in Washington, D.C., on February 8, 1941, to the late Robert Taylor Paxson and Abbott Allison Crim. It was at the age of 35 that she made the most important decision of her life, she accepted Jesus Christ as her Lord and personal Savior. It was her goal in life to share the wonderful grace of Jesus at every opportunity, and she made every attempt to meet that goal.
Beverly was blessed with a wonderful husband, the late Dewey L. Carr, and they enjoyed 28 years of marriage in which they shared not only an unbreakable love for each other, but also for their Savior. Some of the most memorable quotes they shared with each other were "Beverly Jean" and "Dewey, please don't embarrass me". She is survived by her three children, Cindy L. Clyburn, B.J. Clyburn, and Amy L. Lampert, her 8 grandchildren and 10 great grandchildren, and her sister Sharon Wimer. It was apparent throughout the years how much she loved her family as she was always supportive of them and she consistently put their needs above her own. Her love and support was always a package deal, coupled with the love and support of her Savior, Jesus Christ.
Beverly loved children and was an in-home daycare provider for years. She later became a teacher and taught preschool and kindergarten for 16 years at the Fairfax Baptist Temple Academy. Her favorite teaching experience was with the 2 two year old Sunday school class, which she did for 25 years. She had a special gift for remembering and loving each child individually.
Beverly stated in her will that she had full confidence and trust in her Lord and Savior Jesus Christ knowing that He died for her sins on the cross and shed His blood as a payment for her sins. She also stated that she had full faith and confidence that His sacrifice on the cross was payment for her sins. John 11:25
Beverly's services will be held at Fairfax Baptist Temple. Visitation with family will be Monday, May 15th 6pm - 8pm, and funeral Tuesday, May 16th at 10am followed by the burial at Fairfax Memorial Park. There will be a reception to follow at the Fairfax Baptist Temple.
In lieu of flowers, please make donations to Pamela Wieler missionary to Uganda, Africa. These donations can be made thru the Fairfax Baptist Temple Missions Office located at 6401 Missionary Lane, Fairfax Station, VA 22039.
Visitation
Fairfax Baptist Temple
6401 Missionary Lane
Fairfax Station, VA 22309
May 15, 2017
6:00 PM - 8:00 PM
Service
Fairfax Baptist Temple
6401 Missionary Lane
Fairfax Station, VA 22309
May 16, 2017
10:00 AM
Cemetery
Fairfax Memorial Park
4401 Burke Station Rd.
Fairfax, VA 22032
May 16, 2017
11:30 AM
Memories Timeline
Guestbook
---