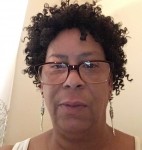 July 28, 1960 ~ April 6, 2018
Beverly Campbell was born July 28, 1960 to the late Helen Parks and John Proctor in Alexandria Virginia.
Beverly was a strong, caring, understanding and loving wife, mother, grandmother, aunt, sister and all-around friend. If you met her, you loved her, because of her beautiful smile and love of the Lord. Bev, as she was affectionately called, loved the Word of God and hearing her Pastors preach as well as her friend Pastor Battles of Mount Zion in Ft. Washington Maryland. She would wake her husband up to make sure she was at Harvest Assembly for 8:30a.m. worship to hear Assistant Pastor Abram on third Sunday each month.
In her leisure time, Bev enjoyed watching her Redskins as well as her grandchildren playing football. Bev could be found watching her favorite television soaps - The Young and the Restless as well as Bold and Beautiful - with her husband Charles and daughter Sheree. Bev loved her family outings. She would go fishing, play BINGO, go to concerts, Tyler Perry plays and movies. She loved her work with her client who she lovingly called "Turtle". She was preceded in death by her father, John Proctor, grandmother Mary Proctor and mother, Helen Parks.
Beverly is survived by her loving and adoring husband Charles Campbell, Sr, three loving children: Tomeka (Edmond) Bynum, Sheree Campbell and Charles (April) Campbell, Jr., seven grandchildren: Edmond Jr., Antonio (Ty Ty), Bermeka, Andrew, Damonte Nevaeh and Charles III (Man Man); 2 great grandchildren: Edmond III (Tre) and Josiah; 5 siblings: Ricky, Patrice, Dorcas, Leonora and Michael; a devoted mother-in-love Anna (Robert) Carson along with a host of family and friends.
Visitation
Harvest Assembly Baptist Church
8008 Fordson Road
Alexandria, Virginia 22306
April 13, 2018
11:00 AM - 12:00 PM
Service
Harvest Assembly Baptist Church
8008 Fordson Road
Alexandria, Virginia 22306
April 13, 2018
12:00 PM
Memories Timeline
Sign the Guestbook, Light a Candle