Annette Caroselli French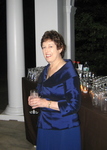 September 13, 1945 ~ September 27, 2016
On September 27, 2016, died in hospice care at her home in Alexandria, Virginia from complications of Alzheimer's dementia.
She was born on Staten Island, New York, September 13, 1945, the daughter of Ernest and Alice Caroselli. She grew up in Cambridge, Massachusetts and attended St. Mary High School. She graduated from Emmanuel College in Boston in 1967 and from Brandeis University with a master's degree in psychology. In 1971 she married and, in 1976, moved with her husband to Alexandria, VA. She later earned a master's degree in pastoral counseling from Loyola College in Columbia, MD and served for a time as a counselor. But her true life's work was raising her two daughters, to whom she passed along, among other things, her renowned skills as a gourmet cook and gardener.
She is survived by her husband, Peter W. French of Alexandria, her daughters Helen E. French of Washington, DC and Emily French Thomas and Emily's husband, Jake Thomas of Brooklyn, NY, her brother, Gerald Caroselli of Acton, MA, her brother-in-law, Jonathan French, and her niece, Ivana French, both of San Francisco, and numerous cousins in Massachusetts and elsewhere.
A memorial service will be held at 11 A.M. on November 12, 2016 at the Unitarian Universalist Church of Arlington, 4444 Arlington Blvd., Arlington, VA 22204.
In lieu of flowers, contributions may be made to the Cure Alzheimer's Fund, 34 Washington St., Suite 200, Wellesley Hills, MA, 02481; 781-237-3800 or at: curealz.org
Service
Unitarian Universalist Church of Arlington
4444 Arlington Boulevard
Arlington, VA 22204
November 12, 2016
11:00 AM
Memories Timeline
---