Alma Lorene Mann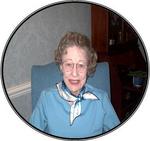 November 19, 1924 ~ September 10, 2013
Lorene Lowe Mann, 88, died of respiratory failure September 10, 2013 at Virginia Hospital Center in Arlington, VA. The widow of James P. Mann, MD, came from Detroit to live in Mount Pleasant in Washington, DC, as a child during the Great Depression, after her widowed mother found work at the Bureau of Engraving and Printing.
After graduating second in her class from Central High School in 1942, Lorene married James Mann in the midst of his fast-track education at George Washington University and Medical School under a program to produce physicians for the war effort. During the next decade, she raised their growing family in the District of Columbia, New York City, upstate New York and Tokyo, before settling near Annandale, VA when her husband entered private practice at the end of the Korean War. For the rest of her life, Mrs. Mann presided over her family at homes in Fairfax, Arlington and Prince William Counties, cultivating special skills in art, gardening and cooking. Her husband died in 1999 after retiring from the Food and Drug Administration.
Mrs. Mann was a resident of Goodwin House in Bailey's Crossroads, VA at the time of her death, where she pursued her interest in art. She is survived by three children: James P. Mann, Jr. of Mesa, Arizona, Richard E. Mann of Woodbridge, Virginia and Kathryn M. Horlick of Washington, DC; 7 grandchildren and 6 great-grandchildren, many of them living in the Washington area.
A memorial service for Lorene Mann will be held on October 27, 2013 at 2pm in the chapel at Goodwin House Bailey's Crossroads, 3440 S. Jefferson Street, Falls Church, VA 22041. Interment at Arlington National Cemetery will be held at a later date. In lieu of flowers, the family requests that donations be made in memory of Mrs. Mann to Easter Seals, 233 South Wacker Drive, Suite 2400, Chicago, IL 60606, www.easterseals.com, or to Bread for the City, 1525 7th St., NW, Washington, DC 20001, www.breadforthecity.org. Please view and sign the family guestbook at www.funeralchoices.com.
Memorial Service
Goodwin House Bailey's Crossroads
3440 South Jefferson STreet
Fairfax, VA 22041
October 27, 2013
2:00 PM - 3:00 PM
Memories Timeline
---